Pierzynski thinks veteran could have helped Flowers
Pierzynski thinks veteran could have helped Flowers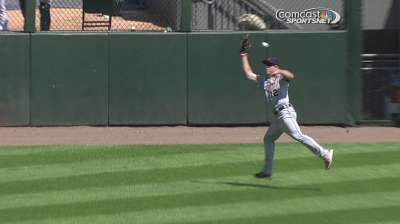 CHICAGO -- The White Sox chose not to back up Tyler Flowers with a veteran catcher going into the 2013 season, instead opting for switch-hitter Hector Gimenez in reserve, as Flowers took over the starting job from A.J. Pierzynski, who is in town this weekend as the Rangers starting catcher. Pierzynski explained Saturday that having veteran Tom Prince's support during his first year as a starter for the Twins in 2001 made a difference.
"When things went bad, he was there to kind of soften it and say, 'This is what's happening,'" said Pierzynski of Prince. "And unfortunately, for those guys, they didn't really have that.
"Tyler had Hector, who is a good guy but had never really been around [the Major Leagues], and [Josh] Phegley and Tyler now are trying to figure it out together. It's a tough situation and I feel for them.
"Catching is hard for a lot of reasons," Pierzynski said. "Obviously, not only the catching part, but the hitting part. And people nowadays expect everyone to be able to come up and jump right in and not have any kind of difficulties. I think that Tyler, I like Tyler. Tyler and I talked yesterday for a long time. I still think he can be a good player. I still think he can contribute to a Major League team and do some things."
Having the White Sox struggle mightily didn't help the cause for Flowers, who entered Saturday's start hitting .192 with nine homers and 23 RBIs. Flowers also had to replace a popular and successful player in Pierzynski, although Pierzynski wouldn't put himself in such a lofty spot.
"You never want to be the guy replacing the guy. You want to be the guy replacing the guy who was replacing the guy. You know what I mean?" Pierzynski said. "And again, I don't want to put myself in that category, but you look at a guy like Paul [Konerko].
"Whoever comes in and plays first base after Paul is going to have a tough road because Paul did so many good things here. The guy who replaces Mariano Rivera in New York, as soon as he blows his first save, they're going to be like, 'Hey, we need Mariano back. Can we get him out of retirement?'
"No matter how good you are, there is always pressure," Pierzynski said. "Whether you put it on yourself or it's brought in by outside circumstances, it's not an easy job that we have and it's not something for the faint of heart because this game is hard and it's a challenge every day."
Scott Merkin is a reporter for MLB.com. Read his blog, Merk's Works, and follow him on Twitter @scottmerkin. This story was not subject to the approval of Major League Baseball or its clubs.