Chatwood, Oswalt progressing; CarGo feeling better
Chatwood, Oswalt progressing; CarGo feeling better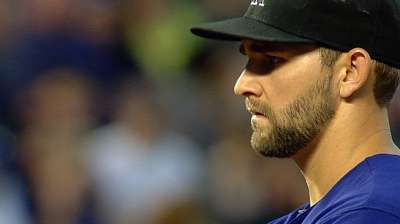 MIAMI -- The Rockies had some good news to report Saturday before the club's game against the Marlins.
Manager Walt Weiss said injured right-handed pitchers Tyler Chatwood and Roy Oswalt had positive bullpen sessions and appear to be progressing well with their respective injuries.
Chatwood, who is recovering from an impingement in his right elbow and has been on the 15-day disabled list since Aug. 8, indicated he is ready for a rehab assignment.
"Everything went well," Weiss said of Chatwood's session. "We're going to look to get him out on a rehab assignment sometime next week, so he's coming along."
Oswalt, who went on the DL after straining his left hamstring July 7, suffered a setback during a simulated game Aug. 10, but he also had a positive session Saturday.
"We're planning on him throwing a simulated game when we get back home," Weiss said of Oswalt. "He's a little bit behind Tyler, but he had a good day. His bullpen went well."
Weiss also said that left fielder Carlos Gonzalez, who has a sprained UCL in his right middle finger, has been taking some swings.
"He hasn't hit off a pitcher, but he's feeling better," Weiss said.
Steve Dorsey is a contributor to MLB.com. This story was not subject to the approval of Major League Baseball or its clubs.