Redmond not surprised by Fernandez's success
Redmond not surprised by Fernandez's success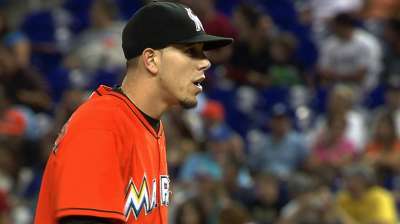 MIAMI -- Saturday night marked what could be Marlins right-hander Jose Fernandez's final home start of his rookie campaign.
As his innings limit approaches -- sometime in early September -- the 21-year-old's success hasn't stunned manager Mike Redmond.
"I don't know that I'm surprised," Redmond said. "You take a guy with his caliber of stuff and his mentality and his confidence and you give him an opportunity and he's taken advantage of it and run with it.
"Maybe the only surprise is the fact that you just don't see that happen very often -- kid come from A ball to [the] big leagues and have so much success, become an All-Star. Pitched as well as he has. He's been able to do it, and frankly, it's been a fun ride. We all look forward to coming to the ballpark to see him pitch. He's that good."
Fernandez, making a case to be the National League Rookie of the Year, was set to start the season in Double-A Jacksonville before injuries at the end of Spring Training sent right-handers Nathan Eovaldi and Henderson Alvarez to the disabled list.
Since June 1, Fernandez has the second-lowest ERA (1.64) behind the Dodgers' Clayton Kershaw (1.62). Among rookie pitchers with at least 15 starts, he has the lowest ERA (2.41), opponents' batting average (.189) and strikeouts (157).
In 12 starts at Marlins Park, Fernandez is 6-0 with a 1.40 ERA.
"Throughout the years, you always hear about guys and how good they are, but until you actually put your eyes on them and get to see them you have to form your own opinion," Redmond said. "I'd heard so many good things about him, but now to be able to see it with my own eyes they're all true. 'This kid is special,' and he is."
Christina De Nicola is a contributor to MLB.com. This story was not subject to the approval of Major League Baseball or its clubs.