Reynolds gets the call for injured Cingrani
Reynolds gets the call for injured Cingrani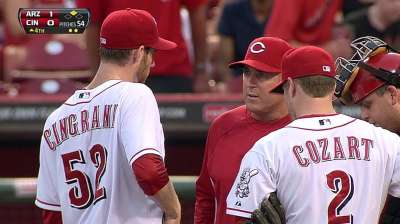 CINCINNATI -- Lefty Tony Cingrani believed his back was fine and that he could make his next start on Sunday vs. the Brewers. But the Reds thought otherwise.
Cingrani is expected to be placed on the 15-day disabled list with a right lower back strain. The Reds announced following Saturday's 6-3 victory over the Brewers that right-hander Greg Reynolds would replace Cingrani in the series finale.
"If something happened to [Cingrani], we couldn't really afford a short outing tomorrow to use my bullpen again, especially before we get to St. Louis [on Monday]," Reds manager Dusty Baker said.
On Tuesday against Arizona, Cingrani exited after only 3 2/3 innings when he felt soreness in his back. A bullpen session on Friday was cut short after only 12 pitches. Not long after Cingrani made his case to reporters that he was ready, Reynolds arrived from Triple-A Louisville on Saturday afternoon.
Since Tuesday, Cingrani has put his back through therapy, electronic stimulus and anti-inflammatory drugs and proclaimed that he felt a lot better.
"I feel fantastic. Everything is moving good," Cingrani said before going on the field. "It's not up to me, that's for sure. I'd pitch every day, but that's not how it works."
Cingrani is 6-3 with a 2.76 ERA in 21 games, including 16 starts, during a strong rookie season filling in for injured ace Johnny Cueto. A DL move for Cingrani would be back dated to Aug. 21, and he'd likely miss two starts and return on Sept. 5 to face the Cardinals in Cincinnati.
Reynolds, the former overall No. 2 Draft pick of the Rockies in 2006, is 12-3 with a 2.42 ERA for Louisville. He last pitched on Tuesday also, working a complete game vs. Rochester and giving up just one run on five hits.
"It's good," Reynolds said of pitching Sunday after his normal four days of rest. "We're all about routines. It definitely makes a difference when you stay on schedule. If you have a couple of extra days sometimes, you don't feel as sharp. This is right on schedule."
Reynolds made one big league start for the Reds this season on June 23 at San Francisco, his first time in the Majors since 2011. The Bay Area native allowed five runs and eight hits over five innings. Three of the runs came in the first frame.
"I think I will be a little more comfortable this time, just with the guys," Reynolds said. "I've already met everybody. In San Francisco, things were moving a little fast that first inning, and I was having a tough time slowing it down. I don't anticipate that will be an issue again. There will definitely be some adrenaline, but I'm sure I will able handle it this time."
Mark Sheldon is a reporter for MLB.com. Read his blog, Mark My Word, and follow him on Twitter @m_sheldon. This story was not subject to the approval of Major League Baseball or its clubs.