After clean MRI, Arcia returns to Twins' lineup
After clean MRI, Arcia returns to Twins' lineup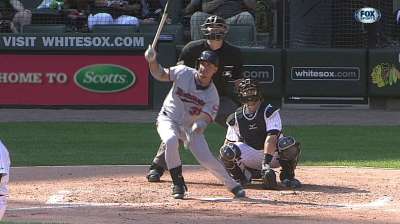 CLEVELAND -- The sore left wrist that has kept Oswaldo Arcia off the field since Monday has healed to the point where Minnesota feels comfortable playing him.
Arcia started for the Twins in Saturday night's game against the Indians, playing left field and hitting sixth in the order. He underwent an MRI early Friday and was later diagnosed with a bone bruise, which occurred when he dove for a ball last week.
"His MRI came out great," Twins manager Ron Gardenhire said. "He did good, and he's ready to play. He's excited. As long as we know it's a bruise, we're OK with that. Yeah, [it's] fun to get him back out there. [We'll] see what happens."
Arcia has appeared in 76 games for the Twins this season. He's batting .257/.313/.438 with 10 home runs and 32 RBIs. He has played 47 games in left field, 20 games in right field and seven games at designated hitter.
Gardenhire did not seem to think that the four games off will affect Arcia's rhythm too much.
"He should be OK," Gardenhire said. "This actually should be a refresher for him. He should come back strong. So, we'll see how he does. [It] depends on what pitch he's swinging at."
Mark Emery is an associate reporter for MLB.com. This story was not subject to the approval of Major League Baseball or its clubs.