Indians use power of 2's to back McAllister
Indians use power of 2's to back McAllister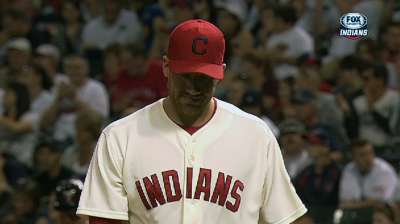 CLEVELAND -- Nick Swisher pulled into second base, let out a yell and pounded his chest in the sixth inning on Saturday night. The Indians certainly had reason to shout, given the offensive outpouring turned in the kind of cool night that brought to mind Cleveland's ultimate goal.
The Indians want to force their way into the October picture and games like this 7-2 romp over the Twins could go a long way in that regard. The Tribe received a solid performance from starter Zach McAllister, but perhaps more important, the club's roller-coaster offense provided power and production.
"It was such a great night," Swisher said. "This organization is making a push to be where we belong and we've just got to keep putting 'W's' on the board, man. This is far from over. We've got a lot of work ahead of us and we're all ready for that opportunity."
Cleveland, which has won four of its past five games, remains 2 1/2 games back of the American League's second Wild Card spot. The Indians (70-59) will be aiming for a series win in Sunday's finale against the Twins before embarking on a six-game road trip, beginning Tuesday, to face postseason contenders in Atlanta and Detroit.
Carlos Santana and Jason Kipnis each belted a two-run home run with two outs to help lead the Indians' offensive charge against Twins starter Liam Hendriks. Swisher later ignited a three-run push in the fifth inning with a two-run double. Within that outburst in the fifth, Michael Brantley snapped out of an 0-for-22 slide with a run-scoring single to left field.
The end result was a seven-run flurry that nearly matched the Tribe's overall showing (eight runs) in the previous three games combined. The Indians ended the evening 3-for-10 with runners in scoring position, scoring four of their runs with two outs and collecting five extra-base hits among their nine knocks.
"We needed a nice little offensive day like this," Kipnis said. "The pitchers have been doing their job. We know the offense has been struggling a little bit, so tonight was a good night for us to have."
Hendriks was hung with all seven runs and was chased after only 4 1/3 innings.
In the first inning, Kipnis got a rally started by chopping a pitch from Hendriks into center field for a two-out single, which snapped his 0-for-19 slump. Santana followed by pulling a 1-1 offering from Hendriks high to right field, where the ball carried easily over the wall for a two-run shot to give Cleveland a 2-0 lead.
Santana's home run tore through a strong wind that was knocking down fly balls all night.
"He just absolutely crushed that ball," Indians manager Terry Francona said. "That ball was really hit. The ballpark was playing big tonight. There were some balls hit on both sides pretty well. [Center fielder Michael Bourn] caught a couple at that track that I thought were really hit well."
Santana shrugged off a question about the windy conditions.
"I made good contact," he said. "It doesn't matter how much wind there is or not."
The blast marked the 16th of the season for Santana, giving him sole possession of the team lead in home runs -- for two innings. In the third, Kipnis again delivered with two outs, turning on a 1-0 pitch from Hendriks for a low line drive that shot down the right-field line and into the visitors' bullpen for a two-run homer. The blast was Kipnis' 16th and put the Tribe up, 4-1.
That was ample support for McAllister, who turned in 7 1/3 innings, finishing with two runs allowed on four hits with five strikeouts and two walks. The right-hander has won three straight starts for the first time in his career and improved to 7-7 on the season.
"He just pounded the strike zone, used his breaking ball and attacked us," Twins manager Ron Gardenhire said. "He went right at us and made us chase early. Had some quick innings. But he had a nice changeup, whether it was a forkball or just a straight change, we couldn't figure it out."
Minnesota (57-71) scratched across one run in the third inning, when Clete Thomas drew a walk and later scored on a sacrifice fly by Brian Dozier. In the eighth, Dozier came through again, crushing a 2-1 pitch from McAllister to the Home Run Porch behind left field for a solo shot. By that time, though, Cleveland had more than enough cushion.
"It's exciting," said McAllister, referring to the early run support. "It gives us confidence to go out there and put the ball in the strike zone as pitchers and let our defense play. And they made some great plays back there."
The Indians pulled away in the fifth inning.
Hendriks allowed a leadoff single to Drew Stubbs before walking Bourn. After a brief mound meeting, Hendriks faced Swisher, who split the right-center-field gap with a double that bounced to the warning track. Bourn nearly caught up with Stubbs as the pair of speedsters raced around the bases, both scoring on the play.
As Swisher slowed into second, he saw the second run cross the plate. The Progressive Field crowd roared, and Swisher did the same.
"I was super psyched, man," Swisher said.
Jordan Bastian is a reporter for MLB.com. Read his blog, Major League Bastian, and follow him on Twitter @MLBastian. This story was not subject to the approval of Major League Baseball or its clubs.