Hendriks hit hard by Indians in return from Minors
Hendriks hit hard by Indians in return from Minors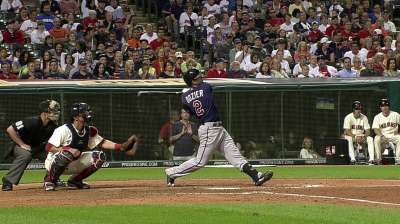 CLEVELAND -- The Twins are planning to throw Liam Hendriks out on the mound again. That news might be surprising to anyone who watched the right-hander's performance at Progressive Field on Saturday night.
The Indians pounced on Hendriks for seven runs in a start that lasted only 4 1/3 innings. Minnesota couldn't mount much of a response against Indians starter Zach McAllister, and the Twins lost the second game of the series, 7-2.
"They just outplayed us tonight," Twins manager Ron Gardenhire said. "It didn't go our way at all. It was just kind of another one of those games where we just kind of sit there, and you're waiting for something to happen, and it never does."
Hendriks, who was recalled from Triple-A Rochester following Friday's game, allowed seven hits and one walk and did not strike out a batter.
"We just have to go on down the road here and see what happens here," Gardenhire said, referring to Hendriks' standing in the rotation. "Our plan is for him to start again, but we'll see."
Minnesota (57-71) fell into an early hole that only got deeper as the game progressed.
Hendriks recorded two quick outs in the first, but allowed Jason Kipnis to reach on a single before serving up a deep home run to right field by Carlos Santana.
Brian Dozier's sacrifice fly with men on the corners in the third brought Minnesota to within one. Then, in the bottom of the inning, Cleveland (70-59) left the yard again, with Kipnis hitting a liner over the right-field wall. As before, the two-out homer came with a runner on, as Drew Stubbs led off with a single and stole second base.
"It was the secondary pitches that just weren't working tonight," Hendriks said. "I couldn't throw a strike when I wanted to. I was in the wrong location. They took advantage of some bad pitches. They hit them in the right spot, as well."
Hendriks' outing only got worse in the fifth. Stubbs again led off with a single, and Michael Bourn followed by drawing a walk. Then, Nick Swisher stepped in and spanked a double into the right-center gap, plating two more runs.
Swisher advanced to third on a wild pitch. He would have come home on Kipnis' liner up the middle, but Dozier, playing in at second base, dove to his right to snare the ball. At that point, Gardenhire had seen enough of Hendriks (0-2, 6.20 ERA), who was replaced by Anthony Swarzak.
"Hendriks made too many mistakes in the middle of the plate with people out there on the bases," Gardenhire said. "He just got some balls up. He couldn't keep it in the ballpark more than anything else."
Swarzak walked his first hitter before Michael Brantley sliced a sinking liner into left field, where Oswaldo Arcia was playing for the first time since Monday. Arcia, who's experiencing discomfort in his left wrist resulting from a bone bruise, reached down and touched the ball, but was not able to catch it, resulting in Cleveland's final run.
"We needed a nice little offensive day like this," Kipnis said. "The pitchers have been doing their job. We know the offense has been struggling a little bit, so tonight was a good night for us to have."
The Twins couldn't keep up with the Indians on the scoreboard, not with how McAllister (7-7, 3.51 ERA) was pitching. Besides Dozier's early sacrifice fly, Dozier's solo shot in the eighth marked the right-hander's only other blemish. That brought about McAllister's exit. In 7 1/3 innings, he held Minnesota to four hits and two runs with two walks and five strikeouts.
"He just pounded the strike zone, used his breaking ball and attacked us," Gardenhire said. "He went right at us and made us chase early. Had some quick innings. But he had a nice changeup, whether it was a forkball or just a straight change, we couldn't figure it out."
McAllister's successes made Hendriks' failures all the more glaring, and they haven't been limited to Saturday. In 24 Major League starts, the Australian is 1-12 with a 5.79 ERA. His only win came at Progressive Field on Sept. 19, 2012. Victory No. 2 will have to wait.
"I want a couple more other than the one," Hendriks said. "Outings like tonight aren't going to help. I just need to keep going out there and try to string a couple quality starts together and let the offense do their thing."
Mark Emery is an associate reporter for MLB.com. This story was not subject to the approval of Major League Baseball or its clubs.