Crisp's go-ahead blast lifts A's, Parker to victory
Crisp's go-ahead blast lifts A's, Parker to victory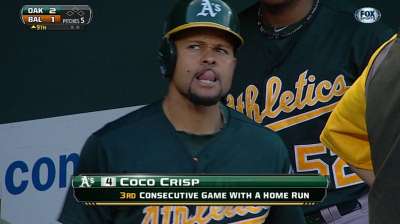 BALTIMORE -- Oakland right-hander Jarrod Parker wasn't concerned about his high pitch count, or his team's struggles to put up runs on Saturday against the Orioles.
Instead, he was simply focused on shutting down their hitters to keep his team in a position to pull out a much-needed win.
That moment came in the ninth inning when Coco Crisp hit a go-ahead home run off Darren O'Day, leading the A's to a 2-1 victory, and giving Parker eight straight winnings decisions.
"I am not really watching pitch count to be honest," said Parker, who threw a career-high 117 in eight innings. "I was just kind of digging deep at that point, trying to put zeros up and keep us in and give us chance. Coco had the huge bomb."
Oakland snapped a three-game losing streak and leads the Orioles by three games for the final AL Wild Card spot. The A's will try to win the series on Sunday, when Sonny Gray takes on Baltimore righty Scott Feldman.
Parker (10-6), who has not lost since May 22, allowed only one run on five hits and three walks, with five strikeouts. He tied Dan Haren for the club's longest unbeaten streak in the past 39 years at 16 starts.
The A's overcame another game in which they failed to give Parker solid run support. They have scored two or fewer runs in 13 of Parker's 26 starts, but Saturday's game was the second straight the offense has won him by hitting a homer.
On Monday, Brandon Moss hit a walk-off against Seattle in the ninth inning for another 2-1 victory.
Orioles starter Chris Tillman was equally effective, allowing one run on three hits and two walks in eight innings and 115 pitches. He also tied a career high with nine strikeouts.
"Good thing there are pitch counts for both those guys, or that game might have gone on for awhile," A's manager Bob Melvin said. "Both those guys were dominant today. It was good to reward Jarrod, because he pitched as well as you can pitch."
Ryan Flaherty, who entered the game batting .221 with seven homers, gave the Orioles a 1-0 lead when he went deep to right in the third.
A fourth-inning single by Jed Lowrie was the only hit the A's managed against Tillman through the first 5 1/3 innings. Oakland tied the game in the sixth when Kurt Suzuki doubled and then scored on Lowrie's double.
The teams remained in a stalemate until the ninth, when Crisp drove a 3-1 pitch over the right-field scoreboard off O'Day (5-3). Crisp has homered in three consecutive games, and O'Day has allowed two homers in his last six appearances.
"It always feels nice to hit the ball hard," Crisp said. "It's obviously a little more special when it's a home run. I tried to bunt. I tried to walk. But I was still holding the bat and I tried to get a pitch I could hit."
Grant Balfour pitched a 1-2-3 ninth with two strikeouts for his 32nd save.
"Got to see two guys at the top of their game," Orioles manager Buck Showalter said about the starting pitching. "August-September baseball. That was pretty impressive to watch. Both of them were as advertised. It's a pity neither one of them got a 'W' in the game. That was pretty impressive by both of them. You could tell early on that Parker was carrying really good stuff and that runs were going to be at a premium."
Todd Karpovich is a contributor to MLB.com. This story was not subject to the approval of Major League Baseball or its clubs.