Mauer hopes to return after Royals series next week
Mauer hopes to return after Royals series next week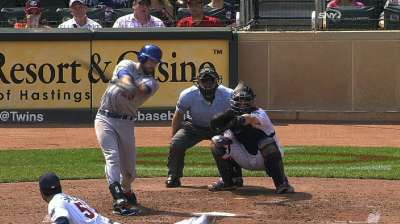 CLEVELAND -- In all likelihood, Twins catcher Joe Mauer will not be ready to come off the disabled list during the club's brief homestand next week.
Mauer, who went on the seven-day DL with concussion-like symptoms last Tuesday, has been instructed by doctors at the Mayo Clinic -- who have been in communication with team doctors -- to rest for several days. Mauer will head to Target Field and regroup with the team next Tuesday, when Minnesota hosts the first of three games against Kansas City.
"I think Joe wants to be a little more conservative," Twins assistant general manager Rob Antony said on Saturday. "If he doesn't do anything for a few days, it increases the chance that there aren't any symptoms when he does start up again."
So far, Mauer hasn't displayed any signs that his injury is unusual. If that continues, he could rejoin the team at some point in Texas. After the Royals series in Minnesota concludes next Thursday, the Twins visit the Rangers and Astros.
Mauer last played on Monday against the Mets. Antony said he would need a Minor League rehab only if he's out for a couple weeks or longer, and his swing or some other part of his game feels off.
"It's all going to depend," Antony said, "but we're always going to err on the side of caution and take our time with any player, unless every doctor signs off, he takes the test and everything is good and the player says: 'I'm comfortable. I'm ready to go.' Then, he goes back in."
Through 113 games, Mauer is hitting .324/.404/.476 with 11 home runs and 47 RBIs.
"Just because he's off the list, he has to be cleared," manager Ron Gardenhire said. "And if he's still feeling it, then they won't clear him. So, really, it's not up to us at all. It's up to the doctors. It's in somebody else's hands, when they say he can. And then you still have to go to the player and see how he feels."
Mark Emery is an associate reporter for MLB.com. This story was not subject to the approval of Major League Baseball or its clubs.