Castro's two homers power Astros past Blue Jays
Castro's two homers power Astros past Blue Jays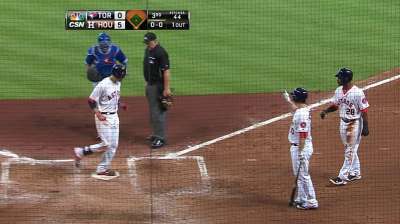 HOUSTON -- It's been a rough week to be an Astros catcher. Backup Carlos Corporan suffered a concussion Monday when he took a foul ball off his mask, forcing the Astros to call up Max Stassi to make his Major League debut. He was hit in the head by a pitch two days later and joined Corporan on the seven-day concussion disabled list.
All-Star catcher Jason Castro has managed to stay healthy this season, which the Astros sorely needed since he missed all of the 2011 season following major knee surgery and landed on the DL twice last year with fluid on the same knee.
Castro has not only kept himself on the field, but he's put together a season worthy of being named the team's Most Valuable Player. He added to that resume Saturday night by going 3-for-3 with two homers and a double to lead the Astros to an 8-5 win over the struggling Jays at Minute Maid Park.
"That's been my goal, obviously, this whole season to try and stay as fresh and healthy as I can and be on the field day in and day out," Castro said. "It's even more important now that Corp and Stass are down. It's a scary thing what happened to both of those guys. We're hoping their recoveries are quick and we're just here battling. It's my job to stay on the field and help my team any way possible."
The third multi-homer game of Castro's career gave him 17 for the season, 15 of which have been hit while he's been catching (two as DH). John Bateman holds the club record for homers by a catcher with 17 in 1966, one of which came as a pinch-hitter.
Castro is hitting .371 (26-for-70) with five homers and 16 RBIs in 19 games since July 31.
"Castro's been outstanding," Astros manager Bo Porter said. "A lot of it has to do with his health, and the rest we've been able to give him is paying big dividends this time of the year. ... We've done a tremendous job of monitoring his workload."
The Astros won their first home series since taking two of three from the Brewers on June 18-20, and they've gone 6-5 in their last 11 games. They were 6-26 in the 32 games prior to that.
"It's been a little while since we had a winning series at home, so that's been nice," Castro said. "The day off we had at home [Thursday] did well for everybody and gave us a break after some long road trips back to back and we took advantage and came out swinging the last couple of nights."
The Astros jumped out to a 7-0 lead after four innings against Jays starter Chien-Ming Wang. Brandon Barnes hit a two-run double in the three-run second inning, Castro hit a two-run shot in the third and back-to-back RBI doubles by Robbie Grossman and L.J. Hoes in the fourth made it 7-0.
"I'm very pleased with the offensive approach, the at-bats and again, they're doing a tremendous job of managing their at-bats," Porter said. "Even the outs are hard, and what you see is a bunch of guys on time with the fastball. They're getting pitches they can drive and they're doing a tremendous job with it."
Wang was pitching at Minute Maid Park for the first time since 2008, when his career was derailed after suffering a torn ligament running the bases while with the Yankees. He was 54-20 in his career prior to the injury and is 8-14 since.
"It was a tough go for him," Toronto manager John Gibbons said. "He threw some good sinkers, but a lot of them were flat and that's what they caught up with. We fell behind early and it turned out to be too much to overcome. We've been having trouble scoring runs, so tonight was kind of a breakout to be honest with you, but too far behind to catch up."
Astros starter Brad Peacock gave up four runs in 5 2/3 innings, allowing a three-run homer to Kevin Pillar in the fifth and a solo shot to Edwin Encarnacion in the sixth. The bullpen got some big outs, with Josh Fields striking out Moises Sierra swinging with some gas to strand two on base to end the eighth.
Chia-Jen Lo worked the ninth for his second save.
"When I come in situations like that, I don't worry about who's on and trying to not let them score," Fields said. "Just focus on the hitter and get that out. That's all you can do. That's what your job is."
In their last 11 games, the Astros are hitting .285 as a team and have watched the bullpen, which struggled mightily earlier in the month, post a 3.29 ERA in that stretch.
"Overall, we're playing much better baseball," Porter said.
Brian McTaggart is a reporter for MLB.com and writes an MLBlog, Tag's Lines. Follow @brianmctaggart on Twitter. This story was not subject to the approval of Major League Baseball or its clubs.