Bonifacio makes first start at second for KC
Bonifacio makes first start at second for KC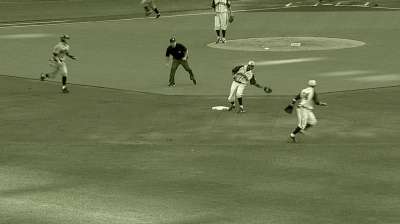 KANSAS CITY -- For the first time in a Royals uniform, Emilio Bonifacio started at second base on Saturday against the Nationals.
Bonifacio, a switch-hitter who can play either in the infield or outfield, was acquired in a trade with Toronto on Aug. 14. Since then, he had started two games at third base and four games in the outfield filling in for Mike Moustakas and Lorenzo Cain, who have been battling injuries.
"We've been trying to see him there [at second base]," manager Ned Yost said. "We just haven't had the opportunity with Moose getting hurt, Cain getting hurt."
This season, Bonifacio has started 49 games at second base, 26 in the outfield and three at third base. He said he enjoys being that versatile.
"I get more chances to be in the lineup every day," Bonifacio said. "You get to be out there for your team."
Bonifacio admitted there are some challenges that arise, however, when you're switching between the infield and outfield. He said he takes extra ground balls during pregame before his infield starts to stay sharp.
"It's a little bit tough because once you've been in the outfield and come to the infield, the game is a little bit faster," Bonifacio said. "You just have to stay down and have to be prepared."
Bonifacio also made his first appearance hitting in the No. 2 spot in the lineup while Eric Hosmer moved to the three-hole, while Salvador Perez received an off-day.
"He can bunt, he can do some things, he can run," Yost said. "When Toronto went on their run, they went on a pretty good run, and Bonifacio was hitting second there too. We'll see how it looks."
Kathleen Gier is an associate reporter for MLB.com. This story was not subject to the approval of Major League Baseball or its clubs.