Nationals clock Royals for fifth straight victory
Nationals clock Royals for fifth straight victory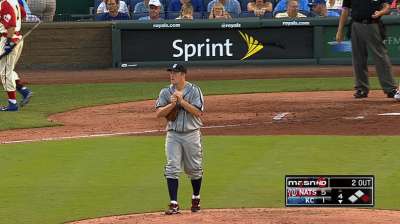 KANSAS CITY -- It was turn back the clock night at Kauffman Stadium on Saturday. The Nationals wore the Negro Leagues uniforms of the Homestead Grays, while the Royals sported those of the Kansas City Monarchs.
The Nationals played more like the Grays -- a team that won 10 Negro Leagues championships -- as they pounded the Royals, 7-2. The Nationals have won five consecutive games, remain 8 1/2 games behind the Reds for the second National League Wild Card spot and find themselves a game over .500 at 65-64. It's the first time they've been over .500 since July 14.
"We have been grinding all year long," shortstop Ian Desmond said. "We are putting good at-bats together, we are seeing the ball well, pitching well and playing good defense."
Right-hander Jordan Zimmermann won his 15th game, going 7 2/3 innings, while allowing two runs on eight hits and striking out seven. It was the antithesis of his last outing against the Cubs in which he allowed eight runs in five innings this past Monday. The difference on Saturday was all of his pitches were working, especially his changeup and slider.
"Not only was he making good pitches with his fastball, he had a good slider," manager Davey Johnson said. "He wasn't flying open. He used his changeup better than I've seen him use it all year. He probably threw 12-15 changeups, outstanding changeups to the left-handers. It was a great effort."
When all four of his pitches are working, it usually is a fun night for Zimmermann, who threw 114 total. It also helped that he was able to get run support early in the game. It allowed Zimmermann to relax and have a quality outing.
"Against the Cubs, I was nibbling a little bit and throwing too many offspeed pitches and that's not the way I pitch," Zimmermann said. "[The Royals] knew that and they were super aggressive and I was able to mix the changeup around the fourth inning on. I got some quick outs and I was able to stay in the game a little longer."
Kansas City scored its first run in the third inning, when Alcides Escobar crossed on a single by Eric Hosmer.
The Nationals scored their seven runs off right-hander Wade Davis. It all started in the first inning, when Denard Span scored on a single by Bryce Harper.
Three innings later, Washington scored four runs off Davis. Chad Tracy highlighted the scoring with a two-run single.
"We know we have the talent to do the things we are doing right now. Perseverance pays off," Desmond said.
One player who has persevered is outfielder Tyler Moore, who had an RBI double in the fourth inning. Since returning to the big leagues last Sunday, Moore is 11-for-21 [.524] and raised his batting average to .213. Johnson said all along that Moore needed more at-bats to get his groove back in the batter's box. With Jayson Werth out with a foot injury, Moore will likely get more playing time.
"Jayson Werth is kind of out. I didn't know what Jayson's situation is. Moore will probably be in the lineup tomorrow," Johnson said.
In the sixth inning, the Nationals scored their last two runs off Davis. Desmond swung at a 2-2 pitch and hit a two-run homer over the left-field wall to make it a six-run game.
"I think we're just running into tough teams right now," Hosmer said. "They're playing well. They're swinging the bats well. We put up a good lead yesterday and they came right back. Today, they jumped on us early and never looked back. Especially when you've got a guy like Zimmermann throwing for them and they get an early lead, they're tough to come back on."
Johnson called on Tyler Clippard to end the game. It has been an adventure of late whenever the skipper has entrusted the ninth inning to Rafael Soriano or Drew Storen.
"I wasn't taking any chances. I was using Clip. I want to make sure we ice that one down," Johnson said. " ... We can take nothing for granted. That was a great win. We need to keep it going tomorrow."
Bill Ladson is a reporter for MLB.com and writes an MLBlog, All Nats All the time. He also can be found on Twitter @WashinNats.. This story was not subject to the approval of Major League Baseball or its clubs.