After eight-day layoff, Napoli gets three hits in return
After eight-day layoff, Napoli gets three hits in return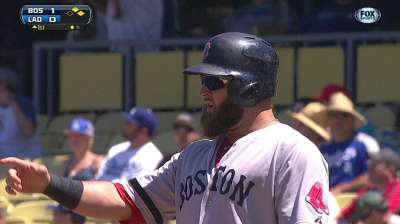 LOS ANGELES -- Mike Napoli finally resurfaced in manager John Farrell's starting nine on Saturday, and the first baseman swiftly made up for lost time by going 3-for-4 with an RBI single that set up a three-run homer by Jonny Gomes in the top of the first of the Red Sox's 4-2 over the Dodgers.
At first, Napoli was sidelined with a plantar fasciitis injury in his left foot. But on this road trip through National League cities San Francisco and Los Angeles, the issue has been the lack of the designated hitter, which has forced David Ortiz to start at first base.
Big Papi got the day off on Saturday, and with a lefty pitching, it seemed like the right time to insert Napoli.
"My foot feels better," said Napoli. "Everything's fine."
Napoli looked fine on offense and defense, where he made a nifty scoop to end the game after a great diving stop by Dustin Pedroia.
"Yeah, he swung the bat great," said Pedroia. "He's always positive. Even when you have tough times, you never see it in him. It was big for him and hopefully he can build on it. We're going to rely heavily on him down the stretch and into the playoffs."
In truth, it is an injury that could linger for a while for Napoli, if not the rest of the season. The first baseman recently had a cortisone shot.
Though Napoli has spent much of August in a slump, he is adamant that the foot injury has nothing to do with it.
"No, it's mostly running. I don't feel it one bit hitting," said Napoli, who entered Saturday's game batting .146 with one homer and five RBIs this month. "That has nothing to do with anything. Running is definitely the worst part of it. Sometimes in the field, going to first base."
Napoli did play the final five innings of Wednesday's game against the Giants after Ortiz exited with back tightness.
"I got to play a couple of innings here and there the past week and it's felt all right," Napoli said. "The reason why I got the injection was because I was at a point where it was bothering me pretty good. I'm going to go into treatment for every day, like I've been. Try to take care of it as best as I possibly can."
The one thing Napoli will never complain about is playing through an injury.
"It's been feeling better," said Napoli. "I'm trying to take the right steps to get my ankle taped a certain way, my foot taped, doing my treatment. I'm just going to have to grind through it and play through some pain, which I have been already."
Once the Red Sox return to Fenway next week, Napoli will become a fixture in the lineup again, though Farrell will make sure to give the first baseman some downtime.
"I feel like I can be in there every day," Napoli said. "I thought that before and I was doing it. Some days are better than others, but I think I'm pretty tough to be able to grind through some stuff. I'm just going to go one day at a time."
Ian Browne is a reporter for MLB.com. Read his blog, Brownie Points, and follow him on Twitter @IanMBrowne. This story was not subject to the approval of Major League Baseball or its clubs.