Lackey's comeback from surgery continues to impress
Lackey's comeback from surgery continues to impress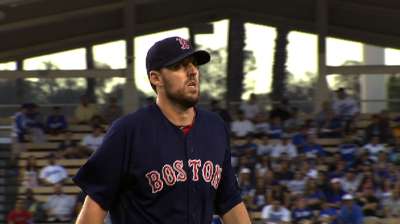 LOS ANGELES -- Although John Lackey has been notoriously victimized by a lack of run support this season, his unimpressive record (8-11) should not overshadow how well he has come back from Tommy John surgery.
Lackey's 3.17 ERA ranks 11th in the American League. The right-hander has also cut down on the free passes, allowing just 32 walks in 23 starts.
"I think we all felt he had a chance to have a big impact for us. But the year that he's putting up, you could make the claim that it's as good a year as he's had in his entire career," said manager John Farrell. "The number of walks issued is the one that stands out to me. And we started to see signs of that in Spring Training.
"You watched him throw his bullpens and in games, he followed the glove well. But to maintain that over the course of the season has been … I think he's had one game where he walked three guys. It's outstanding."
The fact that Lackey also reshaped his body and lost quite a bit of weight has probably played no small role in his resurgence.
"You know, guys react differently," said Farrell. "Some guys pitch better at a certain weight; some others don't. But you know, with John, I think it's clearly allowed him to be more free and loose and athletic on the mound. That, I think, translates to the number of walks he's allowed to date."
Ian Browne is a reporter for MLB.com. Read his blog, Brownie Points, and follow him on Twitter @IanMBrowne. This story was not subject to the approval of Major League Baseball or its clubs.