Crawford gets partial day off; Puig notches two hits
Crawford gets partial day off; Puig notches two hits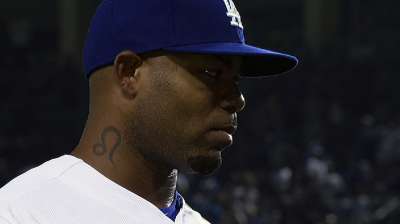 LOS ANGELES -- Carl Crawford wants to beat the Red Sox, but Dodgers manager Don Mattingly wants to keep him healthy, so the left fielder was held out of Saturday's starting lineup.
"I want to take care of Carl from the standpoint of him being healthy the rest of the year," Mattingly said. "I'm sure he wants to play, but it's my job to give these guys the best chance to be healthy. We found out with Carl if you go too many days in a row, something ends up nailing him."
Crawford, who is signed through 2017, started 21 of the past 24 games before Saturday, but he's battled left hamstring and lower back issues this season, often after extended periods of playing time. Mattingly said he expects to continue to monitor Crawford's workload this year and into the future.
"He's such a hard worker, and that's the thing we're trying to help him figure out. Because he works so hard, we feel like he works himself in with too many swings and doing too much," Mattingly said. "We've talked to him about being able to back off and still be comfortable."
Crawford didn't get a complete day off, as he worked a pinch-hit walk in the eighth inning and scored on Adrian Gonzalez's two-run double in Los Angeles' 4-2 loss to Boston.
Yasiel Puig, who entered the game on a 2-for-22 skid in his previous six games, replaced Crawford in the leadoff spot and went 2-for-3 with a walk and run scored, raising his average to .344
"I'm just giving him something to think about today," Mattingly said. "I'm trying to give him a little bit of a different feel. Sometimes just that spot makes you feel differently."
Puig also found himself involved in two of the Dodgers' three double plays in Saturday's loss. Gonzalez lined out to first and Puig was doubled off in the first inning and then Mark Ellis flew out to short right with Puig attempting to steal second in the sixth.
Mattingly said it was not a hit-and-run and called it "a miscommunication."
"It was something we didn't want to be doing," the manager said. "We're down four runs. You don't really want to do that."
While Puig has struggled at the plate recently, those two hits during his 2-for-22 stretch included a tie-breaking home run on the first pitch he saw after coming off the bench on Tuesday in Miami and a double off the wall on Thursday.
"I know he hasn't gotten a lot of hits, but he's hit some balls good," Mattingly said.
Austin Laymance is an associate reporter for MLB.com. This story was not subject to the approval of Major League Baseball or its clubs.