Reddick returns after missing one game
Reddick returns after missing one game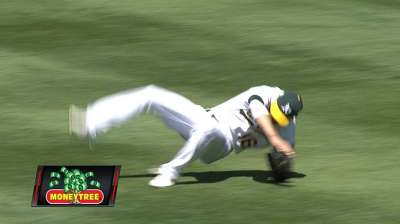 BALTIMORE -- Oakland right fielder Josh Reddick returned to the lineup on Saturday against the Orioles after missing Friday's game with a sore right wrist.
He went 0-for-3 with two strikeouts in Saturday's 2-1 win over the Orioles.
Reddick was injured on Wednesday against Seattle diving for a ball. An MRI did not reveal any damage, and Reddick was able to take batting practice prior to Friday's game without any major issues.
Melvin chose to leave Reddick on the bench for the series opener for some additional rest. However, Reddick said he was ready to go on Saturday against right-hander Chris Tillman.
"He could have played [Friday], but I didn't want him to play," Melvin said. "He's good to go. Feels good. He's a tough guy who takes pride in playing every day."
Todd Karpovich is a contributor to MLB.com. This story was not subject to the approval of Major League Baseball or its clubs.