Rangers drop Civil Rights Game in walk-off fashion
Rangers drop Civil Rights Game in walk-off fashion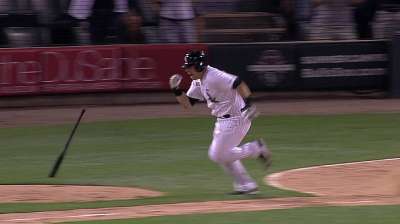 CHICAGO -- The Rangers' winning streak was snapped in walk-off fashion and two key players sustained injuries Saturday night at U.S. Cellular Field, but the early returns on issues surrounding right-hander Yu Darvish and center fielder Leonys Martin appear to be positive.
The same goes for Texas, despite a 3-2 loss at the hands of the White Sox and catcher Josh Phegley, who hit a walk-off single in the bottom of the ninth to end the Rangers' four-game winning streak and hand the club just its fifth loss in the last 24 games.
"We battled and they got the big hit at the end," Rangers manager Ron Washington said. "We had our chances. We just didn't deliver."
Phegley did, lining an offering from right-hander Tanner Scheppers (5-2) into left field to score Avisail Garcia, who began the rally with a one-out single.
"Scheppers, I've faced him in college. I know he's a hard thrower and I just tried to get my foot down and get the barrel on something," Phegley said.
It was the second straight rough outing for Scheppers, who on Wednesday allowed two runs in two-thirds of an inning in Houston and also hit Astros catcher Max Stassi in the shoulder and face, sending him to the disabled list with a concussion.
Washington said he was unconcerned about Scheppers' past two appearances, instead tipping his cap to the White Sox hitters. Rangers catcher A.J. Pierzynski did the same.
"It's tough. As a reliever, you come in, you have one inning and you get one shot at it and you make a mistake and you can lose the game," Pierzynski said. "But he's been throwing the ball great all year and we'll take him in that situation again tomorrow."
The Rangers struggled at the plate, going 1-for-7 with runners in scoring position, leaving nine men on base and missing on two key scoring chances in the second and seventh innings.
Alex Rios provided the lone offense with a two-run home run, his first as a Ranger, in the sixth.
That wasted yet another dominant start by Darvish. The right-hander made only one mistake -- a two-run homer to Adam Dunn in the sixth -- while striking out 11 over seven innings. It was Darvish's 10th game of at least 10 strikeouts this season and 18th of his career.
The Major League strikeout leader was especially filthy in his final inning. After issuing a leadoff walk and a single, he punched out two straight before getting Alejandro De Aza to pop out to shallow center.
"That was some pretty good pitching," Washington said. "He executed his pitches and we certainly needed it right there."
Darvish gave the Rangers a bit of a scare in the seventh when he stumbled trying to run to home plate after a ball in the dirt to De Aza. A hoard of Rangers -- Washington, a translator and a trainer -- visited the mound, but Darvish remained in the game with leg cramps and induced De Aza's popup two pitches later.
Darvish said he felt a lack of water and proper eating contributed to the cramping, which he didn't consider a long-term issue. But even while less than 100 percent, he wanted to stay in the game.
"No. I caused havoc and wanted to finish that inning," Darvish said of the possibility of leaving. "Although both my legs were cramped up I wanted to finish that inning so badly."
The Rangers also appear to have avoided any serious injury to Martin, who exited in the ninth after colliding with left fielder David Murphy on a popup to shallow center. He left the game with a sprained right ankle and precautionary X-rays were negative.
While the offense was lacking, the Rangers' speed and defense were not.
Left fielder Craig Gentry kept the White Sox off the board in the fourth inning by nailing Alexei Ramirez at the plate when Pierzynski blocked Ramirez's slide with his foot to end the inning.
The Rangers also extended their stolen-base streak in the seventh inning when Martin swiped second after getting hit by a pitch. It was the ninth straight game in which the Rangers stole a base, tying the franchise record (July 30-Aug. 6, 1977).
Cash Kruth is a reporter for MLB.com. Follow him on Twitter at @cashkruth. This story was not subject to the approval of Major League Baseball or its clubs.