Sandberg says player interaction key to late wins
Sandberg says player interaction key to late wins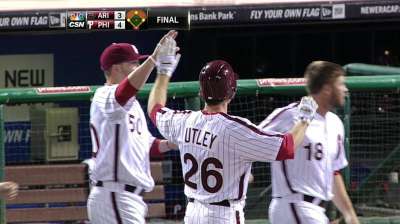 PHILADELPHIA -- Having been a part of none of the three consecutive walk-off plays that gave Philadelphia a 5-3 record since he was named interim manager, Ryne Sandberg is taking no credit.
Rather than talk about himself, Sandberg would rather speak about how his players talk.
"I think it's an attitude," Sandberg said. "I think those things start with energy, guys being vocal on the bench. Those are components of being in the game.
"That is what has been happening throughout the games, and it gradually builds through late-inning wins. It seems to carry over day to day."
Friday's walk-off win marked only the second time in 20 years -- the other being July 8-10, 2010, vs. the Reds -- that the Phillies won three consecutive games in their final at-bat. They never have had four such victories in a row.
Jay Greenberg is a contributor to MLB.com. This story was not subject to the approval of Major League Baseball or its clubs.