Harvey victim of hit parade opposite Scherzer
Harvey victim of hit parade opposite Scherzer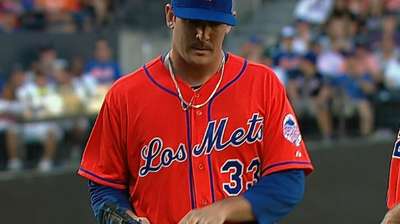 NEW YORK -- Terry Collins said the Mets' game against the Tigers was one a true baseball fan would definitely want to see.
It was two of the best pitchers in the game going at each other, the Mets' manager said. The game pitted Mets starter Matt Harvey against the Tigers' Max Scherzer, two aces with sub-3.00 ERAs who started the All-Star Game in Citi Field last month, marking the first time in Major League history that the two All-Star starters faced off against each other in the regular season in the same year they started the Midsummer Classic.
But if you ask Harvey, he didn't live up to his billing. The young right-hander gave up two runs on 13 hits over 6 2/3 innings, which proved too much for the Mets to overcome against Scherzer. The Tigers' ace spun six scoreless innings on Saturday, leading Detroit to a 3-0 victory over New York in front of 35,636 fans at Citi Field.
"It was pretty crappy. Giving up 13 hits is not ideal as a starting pitcher," Harvey said. "I was not happy about giving up runs, and I gave up too many hits. It was just a poor performance."
The 13 hits -- 11 of them singles -- were a career high for Harvey, who had never given up more than 10 in a game entering Saturday's game. His biggest struggles came early, as eight of the hits he allowed came in the first three innings.
Scherzer accounted for one of those hits, driving an RBI double to the gap in left to notch his first hit since 2009 and put the Tigers on the board in the second inning. Center fielder Austin Jackson added an RBI infield single in the same frame, giving Detroit a 2-0 lead.
Harvey kept the Tigers off the scoreboard over the rest of his outing, striking out five and walking none.
"It was another great outing. He kept us in the game," Collins said. "He battled like crazy, and that's what you love about him. He got a couple big strikeouts when he needed, he got some popups when he needed -- Matt Harvey is legit."
Scherzer got the best of his All-Star counterpart on Saturday, though, keeping the Mets at bay. The right-hander allowed just three hits and four walks, throwing six scoreless innings and striking out 11 batters to become the third pitcher in baseball history to win 19 of his first 20 decisions.
"The guy is having a magical year," left fielder Eric Young Jr. said. "It's one of those where you tip the caps and enjoy the show that he's putting on. It's not often a pitcher has a type of year that he's having."
The Mets' best chance against him came in the sixth. Second baseman Daniel Murphy singled to lead off the inning and first baseman Ike Davis hit a one-out double to right to give the Mets runners on second and third. Third baseman Wilmer Flores walked in the next at-bat, loading the bases with one out against Scherzer.
But Scherzer bore down just like he did all afternoon, striking out center fielder Juan Lagares on four pitches and getting catcher John Buck to fly out to get out of the inning unscathed.
"Throughout the game, I continued to make good pitches when I needed to," Scherzer said. "I made big pitches there in the sixth."
Despite three hits and four walks, the Mets only advanced three runners into scoring position and left all seven on base.
"We battled and got [Scherzer] deep into a pitch count," Collins said. "But as we've seen the last couple nights, we're taking strikes and swinging at balls. That's not the approach you want. Especially when you got guys in scoring position. If you get a strike, you've got to put a swing on it. Because against guys like Max Scherzer, you're not going to get many of them."
The Mets kept the game close the whole time, though. The Tigers hit four straight singles in the seventh inning but weren't able to score a run as a throw from Young in left after Prince Fielder's single cut down Omar Infante at home.
Detroit did add an insurance run on left fielder Don Kelly's sacrifice fly in the ninth inning, though.
The loss drops Havey to 1-3 in August and brings his ERA this month to 2.97, which is his highest mark in any month this season. Collins said fatigue is playing a part in Harvey's recent struggles, something the Mets will likely have to contend with for the rest of the season as they monitor his innings total, which sits at 178 1/3.
"I'm pretty tired, but so is everybody," Harvey said. "You have to work through and deal with it. It's a long season. You have to figure out how to get things done. My performance my last couple of starts has been pretty terrible. I have to work through it and get better."
Josh Vitale is an associate reporter for MLB.com. This story was not subject to the approval of Major League Baseball or its clubs.