Putz second-guessing injury-causing play
Putz second-guessing injury-causing play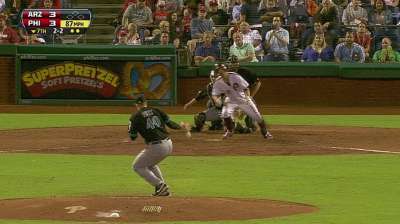 PHILADELPHIA -- Reliever J.J. Putz second-guessed himself on Saturday for second-guessing himself in the seventh inning of Friday night's game on a comebacker off the bat of the Phillies' Kevin Frandsen.
Putz started to make a barehanded stop, then thought better of it. But as he pulled back his hand, the ball hit the little finger on his right hand. Frandsen was retired, but Putz ended up with a dislocated finger, an injury that landed him on the 15-day disabled list.
"I should have just caught it," Putz said. "I stuck my hand out, and then I was pulling it back to get it out of the way, and that's when it happened. If I had just caught it, I probably would have been fine."
Adding to Putz's disappointment is the fact that he has an 0.57 ERA in his last 19 appearances.
"I feel like I'm kind of back to the way I should be pitching. It's really frustrating. But you move on," he said.
On the plus side, he expects to be ready to go as soon as he's eligible to be activated.
"I think it's just a matter of the pain tolerance now," he said. "They say when you have a dislocation and an open wound, infection is a big concern. So it's just a matter of that healing and then, once the pain is gone, to throw. Four or five days maybe. I should be ready [when the 15 days are up]. That's the plan.
"I didn't know I was hurt. I knew I got hit, but I didn't really know it was bleeding until I got to the dugout and [Gerardo] Parra kind of looked at me weird. I looked down, and it was dripping blood. They numbed [it] first. That was the worst part. They shot the needle right up into my finger to numb it. That was the most uncomfortable part. Then when they set it, I couldn't feel anything, but I could hear everything, like crunching and stuff."
Manager Kirk Gibson prefers that his pitchers don't make catches with their bare hands, but he understands why it happens.
"He's done it several times this year and hasn't hurt his hand," Gibson said. "I don't like it, but I understand why he does it, why anybody does it. It's just a reaction."
Paul Hagen is a reporter for MLB.com. This story was not subject to the approval of Major League Baseball or its clubs.