Rockies can't solve Fish's Fernandez in shutout
Rockies can't solve Fish's Fernandez in shutout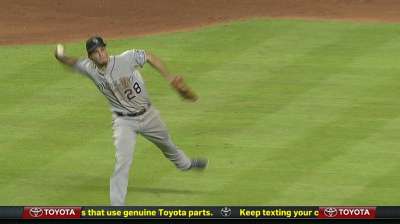 MIAMI -- Jose Fernandez flashed his stuff Saturday night, and the result was similar to the first time the Rockies saw the Marlins' right-handed rookie phenom.
Fernandez stymied the Rockies for seven innings and Miami's bullpen preserved a 3-0 win to even the three-game series that concludes Sunday afternoon at Marlins Park.
Rockies starter Jeff Manship looked sharp for the first three innings, but a three-run fourth by the Marlins spoiled Manship's bid for his first win of the season. And on this night, Manship would have had to be near flawless to outduel Fernandez, who beat the Rockies the first time he faced them July 23 at Coors Field.
Manship gave up only four hits during his six-inning stint, but three of them were in the fourth, when the Marlins scored all three of their runs.

"Manship did a nice job," Rockies manager Walt Weiss said. "He gave up the three in the fourth, but other than that he did a nice job. It was going to be tough to score against Fernandez tonight."

Fernandez, a candidate for National League Rookie of the Year, pitched seven innings and allowed no runs on four hits, keeping most of the Rockies off-balance with a blazing fastball and nasty breaking pitches. He registered eight strikeouts and for the eighth consecutive start held the opposing team to two or fewer runs.

Weiss said before the game that he was impressed with Fernandez the first time he saw him, and nothing that the rookie threw at the Rockies on Saturday night changed his mind.

"You've got to scratch and claw for everything you can get off that guy," Weiss said. "He commands the fastball. It's one thing to have velocity, but he commands it real well, especially for a young pitcher. When he does that with that velocity and the breaking ball he's got, he's going to be tough."
The only Rockies to collect a hit off of Fernandez were Michael Cuddyer and Todd Helton, who each had two.

"For our offense, we obviously haven't scored a ton of runs, so to shut them out was huge," Marlins manager Mike Redmond said in his praise of Fernandez. "He just continues to go out there and really pitch outstanding and keep us in the ballgame and give us a chance to win."
Colorado whiffed at scoring opportunities when the club had a runner in scoring position in each of the second and fourth frames. Both times, Cuddyer was stranded at third. Cuddyer and Helton led off the second with back-to-back singles, but Fernandez retired the next three Rockies to escape the jam. Helton also had a single in the seventh, giving him 2,496 to move him past Mickey Vernon into 96th on the all-time hits list.
Cuddyer, who has hit safely in eight consecutive games, laced a one-out double to left and went to third on a groundout by Helton in the fourth. Again, Fernandez pitched out of trouble by ending the threat with a strikeout. Cuddyer's double was the team's 18th two-bagger on this road trip, which ends with Sunday's game at Marlins Park.
Those missed opportunities would haunt the Rockies in the fourth when the Marlins posted three runs on three hits, including an RBI triple by Adeiny Hechavarria, and a sacrifice fly.

One positive for the Rockies is that Weiss didn't have to tax his bullpen, as Rob Scahill pitched two scoreless innings in relief of Manship. That bodes well for the finale as left-hander Jorge De La Rosa will start for the Rockies, who will try to win their first road series since July 8-10 when they took two of three against the Padres.

"We feel good when De La's on the mound," Weiss said. "He's had a good year and we like our chances having him on the mound out there for the rubber match."
Steve Dorsey is a contributor to MLB.com. This story was not subject to the approval of Major League Baseball or its clubs.