Phillies drop epic 18-inning battle to D-backs
Phillies drop epic 18-inning battle to D-backs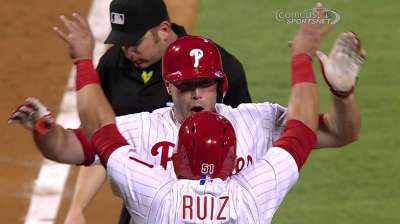 PHILADELPHIA -- One-hundred and thirty-one seasons the Phillies had played without ever recording four straight walk-off wins. And they played what seemed like another 131 seasons trying to do it on Saturday night before falling in 18 innings to the D-backs, 12-7.
Outfielder Casper Wells, who had pitched a scoreless inning for the White Sox earlier this season, was pressed into service and retired the first two batters he faced before walking Tony Campana. Adam Eaton doubled up the gap in left-center to bring Campana around without a throw, then slid around Carlos Ruiz's attempted tag after Paul Goldschmidt followed with a line single to right.
Gerardo Parra's ground single to right chased home two more runs before interim manager Ryne Sandberg called upon reserve infielder John McDonald, who was in left field, and returned Wells to right. Arizona pitcher Trevor Cahill drove in another run with a single before the D-backs' offense called it a morning.
Thus what appeared poised to become the Phillies' most exhilarating victory of the season turned into an exhausting, seven-hours-and-six-minutes loss, the longest game in time -- but not innings -- the franchise ever has played.
Time stood still as the Phillies missed chances in five of the extra innings to drive in runners in scoring position, though all the while they were accelerating the timetable for the return of Roy Halladay. Sandberg said after the game that Halladay will bypass his third rehab start in Reading and pitch instead in Philadelphia in the series finale.
When Sandberg decided to use Tyler Cloyd, Sunday's originally scheduled starter, to begin the 12th, he placed a call to Reading and general manager Ruben Amaro Jr., who sought and received medical clearance to use Halladay ahead of schedule.
"He was our best option and will give us the best he has," said Sandberg.
At least Halladay will be the freshest guy on the field. The 2000 Royals, the last MLB team to win four straight games in their last at-bat, can also rest well, as most of the nation was doing when this one finally ended at 2:11 a.m. ET.
The Major League record for consecutive walk-offs is five, held by the 1986 Astros. Probably only the Phillies figured they would have a shot at even No. 4 after the seventh Arizona run scored in the top of the sixth. But Justin De Fratus relieved Zach Miner to induce a double-play ball from Martin Prado to end the inning, and that's when the game turned. In the bottom of the frame, the Phillies scored on Roger Bernadina's leadoff homer and again when Jimmy Rollins, who had doubled, scored on starter Randall Delgado's wild pitch.
The Phils took a four-run deficit into the eighth, and again Bernadina was the catalyst, fighting back from an 0-2 hole to coax a leadoff walk from reliever Joe Thatcher, then going to third on Rollins' single.
Bernadina scored on Chase Utley's sacrifice fly, Heath Bell entered and got John Mayberry looking for the second out. But Ruiz smacked a hard single off the glove of diving shortstop Didi Gregorius, and Darin Ruf unloaded a two-run homer into the stands in left-center off a 2-1 fastball.
After Josh Collmenter fanned Mayberry with the bases loaded and two outs in the bottom of the ninth, Jake Diekman survived infield hits by Campana and Eaton to lead off the Arizona 10th. Goldschmidt moved Campana to third with a long fly to center, but Prado hit the ball right at Utley, who started a 4-6-3 double play.
Bernadina doubled with one out in the 11th but was stranded when Chaz Roe came in to strike out pinch-hitter Erik Kratz. Prado's brilliant barehanded pickup and throw on Cloyd's dribbler with the bases loaded and two outs in the 13th ended the Phils' fourth opportunity in extra innings. In the 14th, after Ruf had doubled with one out and moved to third on a fielder's choice, Brad Ziegler retired Michael Young on a comebacker.
Cloyd doubled down the left-field line to lead off the 15th against Cahill, but ropes hit by Ruiz and Ruf were hit directly at Parra and Eaton, and Parra ran down Wells' short fly ball.
By then it seemed like a different game than the one that had started many hours earlier. Coming off three straight creditable starts, Phillies rookie starter Ethan Martin appeared two batters along into a fourth solid one. He struck out Campana, retired Eaton on a fly ball down the left-field line, and with two outs and nobody on, the odds of Martin not surviving the first inning seemed long.
Turns out, not as long as the inning would become. Three walks and three hits -- one a two-run homer by Prado -- later, Martin was walking off the mound with a three-run deficit and two more men on base.
"It seemed like he had a lot of trouble with Goldschmidt, [who walked], and after that he lost the feel of the baseball," said Sandberg, who at that point decided that rather than save his bullpen, he would try to rescue the game.
That didn't appear likely when the D-backs added three runs off Luis Garcia and one more off Miner. Delgado did not allow a hit until Ruiz homered to lead off the fifth inning.
"I'm just exhausted," said Sandberg. "We were out there for more than seven hours with chances. The comeback was good, quality, clutch stuff, but then it was frustrating."
Not only did the Phillies take their first defeat in four games, they also lost Domonic Brown, who did not take the field for the third inning with a bruised right Achilles tendon. At the end of the longest day, he was listed as day to day.
Jay Greenberg is a contributor to MLB.com. This story was not subject to the approval of Major League Baseball or its clubs.