D-backs win longest game in franchise history
D-backs win longest game in franchise history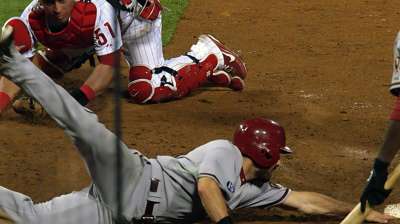 PHILADELPHIA -- Starter Randall Delgado pitched six innings on Saturday night at Citizens Bank Park and at one point had a six-run lead.
The fact that Arizona ended up using nine pitchers -- including Tuesday's scheduled starter, Trevor Cahill -- before finally beating the Phillies, 12-7, in 18 innings makes it pretty obvious that things didn't go smoothly for either team after that. Still, the D-backs were eventually able to snap a three-game losing streak and remain seven games behind the Reds for the second National League Wild Card spot.
Third baseman Martin Prado thought the turning point came when the Phils brought in outfielder Casper Wells to start the 18th. Before that inning was finally over, Phils infielder John McDonald, who had been pressed into service in the outfield, had also taken the mound.
"Both teams had a lot of opportunities, but pitching came up big for both of us. They just ran out of pitchers, and that gave us an advantage. And fortunately for us, we got the win," Prado said.
Added infielder Cliff Pennington: "When you're facing Casper and Johnny Mac, it's like, 'This is crazy.' But hopefully, you just find a way to get a hit and put a run across and win the game."
The game finally ended at 2:12 a.m. ET. Adam Eaton's two-out double scored Tony Campana from first, and the D-backs added four insurance runs. Cahill, who had never pitched in relief in the Major Leagues, threw four shutout innings to get the win. But even when he was told to go to the bullpen, he didn't really believe he'd actually pitch.
"Even when I was down there, I was like, there was still no way. Then they said, '[Brad] Ziegler has one more [inning],' and I was like, 'Oh, gosh.' So I jumped on the bike and put heat on my arm and stretched out. I definitely had enough time. I usually watch some video and try to eat a balanced meal, but I think they were in a little more of a rush than that."
Asked how long he could have gone, Cahill laughed.
"I'm glad I didn't have to find out," he said.
Manager Kirk Gibson hasn't decided who will now start on Tuesday against the Padres at Chase Field.
Both teams emptied their bullpens and benches, with the Phillies' originally scheduled Sunday starter Tyler Cloyd, pitching five innings of relief. Instead of facing Cloyd in the series finale, the D-backs will now face Roy Halladay.
The D-backs are the first team to play three games of at least 16 innings in a season since the 1989 Dodgers. It was the longest time of game (7:06) in franchise history and tied the mark for most innings, done three times previously. Arizona walked 18 times, also a club record, and right fielder Gerardo Parra had a career-high five hits.
All of that came about because relievers Joe Thatcher and Heath Bell combined to give up four runs in the bottom of the eighth, allowing the Phillies to tie the score.
"I was disappointed, but we moved on," Gibson said. "Then it was sudden death. We've exhausted our pitching. We're going to have to figure that out. After they tied it up, the bullpen did a great job."
Prado remained in the game despite a stiff back, though second baseman Aaron Hill left the game in the bottom of the seventh as a precautionary measure due to mild tightness in his groin.
"We had guys hurt. They sucked it up. It was a long night," Gibson said.
The way the game started, there was no reason to expect that this would be anything but a laugher for the D-backs, especially since promising Phillies rookie Ethan Martin didn't survive the first inning. Martin recorded two quick outs but didn't retire another batter, allowing three runs on three hits and three walks.
Arizona added insurance runs against Luis Garcia in the second and third and against Zach Miner in the fifth and sixth. In the meantime, Delgado was mowing down the Phillies. He didn't give up his first hit until catcher Carlos Ruiz homered on a 2-0 fastball leading off the fifth. To that point the only runner for the Phillies had been Chase Utley, who walked with two outs in the first.
Delgado (4-4) ended up pitching six innings, allowing three runs on three hits. He walked one and struck out six.
The Phillies went into the game with three straight walk-off wins, including one against the D-backs on Friday night, and had a chance to make it four going into the ninth but couldn't take advantage of scoring opportunities. The D-backs, too, could not cash in on their chances until the speedy Campana drew a two-out walk in the 18th. Because he was running with the pitch, Campana scored easily when Eaton doubled to left-center.
It wasn't quick, and it wasn't easy, and Sunday's game was scheduled to start in less than 12 hours. At least the D-backs could console themselves with a win.
"There's not really a choice, is there?" Pennington said. "You just go out there and keep playing."
And playing, and playing and playing.
Paul Hagen is a reporter for MLB.com. This story was not subject to the approval of Major League Baseball or its clubs.