Gibson has advice for Sandberg
Gibson has advice for Sandberg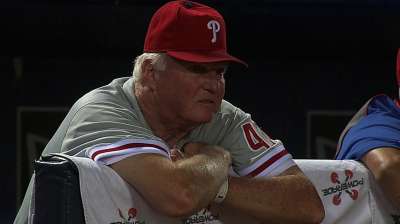 PHILADELPHIA -- Kirk Gibson was named the D-backs' interim manager in the middle of the 2010 season, taking over for A.J. Hinch after serving as a coach for the first part of the season. So it's not surprising that Phillies interim manager Ryne Sandberg, who finds himself in an almost identical situation after replacing Charlie Manuel on Aug. 16, wanted to pick Gibson's brain.
"I talked to him," Gibson said. "I told him [serving as interim manager] helped me, and it will help him if he's in consideration [for a permanent job]. On the other side, for Charlie, it's cruel and it's unfair. That's just the way it is. Charlie's a good man, and he was good for this organization and for baseball.
"First of all, you just learn what it takes -- the schedule and the organization. The routine. And you start to learn your team. You're sitting there, and you see what you want to do and what you're trying to do and how they react to it. You're thinking about personnel and what you want to do your next Spring Training. It helps you set that up. You understand the personalities a lot better."
Paul Hagen is a reporter for MLB.com. This story was not subject to the approval of Major League Baseball or its clubs.