Fernandez blanks Rox for seven innings in 10th win
Fernandez blanks Rox for seven innings in 10th win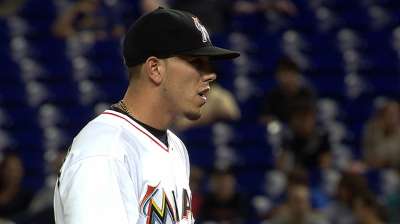 MIAMI -- The hardest hit ball against right-hander Jose Fernandez -- a lined comebacker to the mound off the bat of Troy Tulowitzki -- proved to be no match for the National League Rookie of the Year candidate.
"I saw it coming off the bat and just threw my glove to it," Fernandez said. "I'm not going to say I caught it. It caught me. [Tulowitzki's] like, 'You just did that?' and I said, 'Yes, I did.'"
Mark it down as just another play during a remarkable first season for the 21-year-old right-hander, who pitched seven shutout innings as the Marlins beat the Rockies, 3-0, snapping a four-game skid in front of 23,333 Saturday night at Marlins Park.
Fernandez (10-5), facing an innings limit sometime in early September, competed in possibly his final home start, improving to 7-0 with a Major League-leading 1.29 ERA in 13 starts at Marlins Park. He won his fifth straight decision.
Entering with a 2.41 ERA, he lowered it to 2.30, third-lowest in the Majors behind the Dodgers' Clayton Kershaw (1.72) and the Mets' Matt Harvey (2.27). Fernandez has given up two runs or fewer in each of his last eight starts.
Six of Fernandez's eight strikeouts came via the curveball. He did not issue a walk and retired 11 of the final 12 batters faced, scattering four hits. Of his 97 pitches, 67 went for strikes.
"You want a kid out there battling for you who has energy and the ability to compete like him, and he truly does throw it all out there every single day," Marlins manager Mike Redmond said.
"[He] has the ability to pitch unlike -- I don't think I've seen another 21-year-old as good as him, as polished as him -- at that age. He threw some nasty curveballs and changeups as well. He continues to have an answer for them. He's impressive the way he commands all of his pitches."
Miami's offense provided Fernandez with all the run support he would need in the fourth, scoring three times on three hits off Colorado right-hander Jeff Manship (0-4), who went six innings.
For the second straight night, Ed Lucas handed the Marlins a 1-0 lead, driving in Giancarlo Stanton with an RBI single to left with the infield drawn in.
Stanton, who doubled on a sharp liner to left to lead off the frame, moved to third on Logan Morrison's groundout to first. A diving Nolan Arenado couldn't reach Lucas' shot down the third-base line. On consecutive pitches, Adeiny Hechavarria produced an RBI triple to center and Jake Marisnick lifted a sacrifice fly to right.
Lucas is 9-for-23 (.391) over his last seven games after going 2-for-27 (.074) from Aug. 8-17. Hechavarria tripled for the seventh time this season, tops among all rookies.
"You never want to stop adding on, but it gives you a certain amount of comfort we've put some runs on the board finally and we know Jose's going to compete," Lucas said. "Lately he hasn't really given up anything, so all it really takes is a couple."
Just twice did Fernandez permit a runner into scoring position, escaping trouble in the second and fourth innings.
A frame after recording two outs on hard-hit balls, the Rockies collected a pair of singles to open the second on soft contact.
Michael Cuddyer's slow roller stayed fair down the third-base line, while Todd Helton found the hole at second to put runners on first and second. Fernandez struck out Wilin Rosario swinging and Arenado flied out to right, but Cuddyer advanced to third on the swing.
DJ LeMahieu, who entered the game 12-for-31 in his career against the Marlins, struck out swinging on an 84-mph curveball after Fernandez threw him a 98-mph fastball the pitch before.
Fernandez stranded a runner at third with two outs in the fourth when he struck out Rosario looking. Cuddyer had doubled over Christian Yelich's head in left with one out and ended up at third on Helton's groundout to second.
"You've got to scratch and claw for everything you can get off that guy," said Rockies manager Walt Weiss, whose team also lost to Fernandez on July 23. "He commands the fastball. It's one thing to have velocity, but he commands it real well, especially for a young pitcher. When he does that with that velocity and the breaking ball he's got, he's going to be tough."
Right-hander AJ Ramos pitched a perfect eighth, while closer Steve Cishek collected his 23rd straight save -- the third-longest active streak in the Majors -- and his 28th overall.
"I was shut down [in Class A] by this time last year," Fernandez said. "It feels good to be here doing work and helping my team out. Every fifth day I go out there and giving my heart and giving everything I have to win."
Christina De Nicola is a contributor to MLB.com. This story was not subject to the approval of Major League Baseball or its clubs.