Gosewisch thrilled to have started against Phils
Gosewisch thrilled to have started against Phils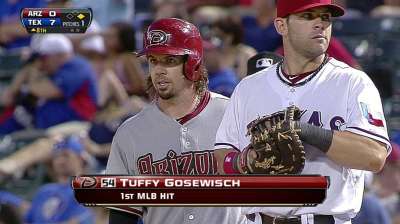 PHILADELPHIA -- Tuffy Gosewisch was a well-regarded catcher in the Phillies' system; two-time Cy Young Award winner Roy Halladay complimented the way he called a game. But he never got his chance in Philadelphia. Instead he made his Major League debut for the D-backs, on Aug. 1.
So it was a thrill for him to start against the Phillies on Friday night.
"A lot of meaning. Probably the most excited I've been to play baseball in a long time," Gosewisch said. "I was with [the Phillies] for a long time, and I really wanted to be on the home team back a few years ago. It was sweet to go out there and play against those guys that I played with for the last five Spring Trainings. I want to beat them bad; kind of have a chip on my shoulder. I felt like I should have been up here with them, but it didn't happen and didn't work out.
"We all talked before the game during batting practice -- just the usual 'Hi, how you doing? Congratulations on being brought up.' But after their first at-bat, nobody talks. They're trying to win, and we're trying to win. I don't know why I never made it up here [with the Phillies]. You'd have to ask them. But the last time I was this excited, I guess it was the College World Series."
Paul Hagen is a reporter for MLB.com. This story was not subject to the approval of Major League Baseball or its clubs.