Padres erase six-run deficit in win vs. Cubs
Padres erase six-run deficit in win vs. Cubs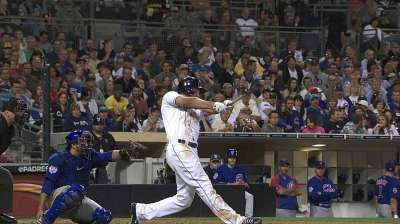 SAN DIEGO -- The way Friday night's game started for the San Diego Padres, it seemed unlikely that even Will Venable and Jedd Gyorko could come to the rescue.
Venable and Gyorko did just that, however, as Venable's solo home run in the seventh gave the Padres their first lead, and Gyorko hit two homers to fuel a comeback from a six-run deficit as the Padres defeated the Chicago Cubs, 8-6, in the opener of a three-game series at Petco Park.
The come-from-behind victory was the largest of the season for the Padres and the largest at Petco Park since the club erased a six-run deficit against Milwaukee on July 31, 2009.
"All the guys had a good look in their eye," manager Bud Black said. "Will, Jedd and Logan [Forsythe]. We talked about it. We just kept pecking away; it was great."
Edinson Volquez put the Padres in a deep hole quickly, allowing six runs in the first and not recording an out until the ninth batter, when opposing starter Edwin Jackson grounded into a fielder's choice. Nate Schierholtz hit a three-run homer in the inning, and Brian Bogusevic tripled in two more runs for the Cubs.
Tim Stauffer entered and immediately stopped the bleeding, tossing 4 1/3 scoreless innings while allowing just one hit. Stauffer's effort set the stage for the San Diego rally.
"That's the good thing about this game, is you feel like you have a lot of chances to come back," Stauffer said. "One swing of the bat can get you right back in it, and that was the case tonight. We had a couple big innings. Those guys tonight did a nice job of getting us a win."
The comeback started with Gyorko's three-run blast, pulling the Padres within 6-3 in the fourth. Gyorko added his 16th home run this season in the eighth, giving him the most long balls among rookies in the Majors.
"We knew there was obviously a lot of game left, and that's not the ideal way to start it," Gyorko said. "When you've got nine innings of baseball left, anything can happen. We had great at-bats up and down the lineup. We kept fighting and had good effort and never gave up."
Venable belted a two-run triple to the right-center gap in the fifth that cut the lead to 6-5, and Forsythe evened the score at 6 with a triple of his own to drive in Chase Headley in the sixth. Venable, last week's NL Player of the Week, has hit safely in 18 of 19 games in August, going 28-for-77 (.364).
"When you give up a lead like that, the only positive thing is you have a long game to go to claw back in there," Venable said. "Tim did a great job giving us an opportunity and the rest of the bullpen. We were able to push a couple runs across, and then take the lead."
Black talked about the continued sense of presence in the batter's box that he has seen from Venable as an indicator of success.
"He kept it rolling," Black said. "He has a lot of momentum, a lot of confidence. He's swinging great. You can see the bat speed, just in the box, and his comfort level there."
Dale Thayer, Nick Vincent (3-1), and Luke Gregerson each contributed scoreless innings before Huston Street collected his 25th save in 26 chances. Street has converted 10 straight saves and has not allowed a run in 16 consecutive appearances.
Volquez, who may be fighting for his spot on the team with the Sept. 1 roster expansion on the horizon, allowed six runs (five earned) on five hits over 2/3 of an inning. He walked two, hit a batter and did not record a strikeout.
"The breaking ball was the key, or the negative key, if you want to look at it that way," Black said. "He had three hits off of breaking balls that were intended to be down and in. He got down underneath them, and he just hung them. It just wasn't happening for him. His stuff was fine. He couldn't string a couple good pitches together."
Jackson exited after six-plus innings, allowing six runs (five earned) on 10 hits. He struck out four and did not walk a batter.
James Russell (1-5) took the loss after allowing Venable's home run.
Tim Powers is a contributor to MLB.com. This story was not subject to the approval of Major League Baseball or its clubs.