Wainwright goes distance, first in NL to 15 wins
Wainwright goes distance, first in NL to 15 wins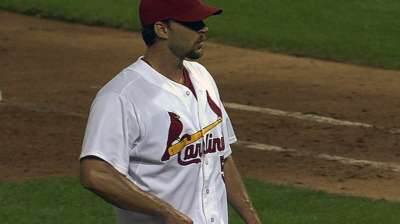 ST. LOUIS -- As a big brother would, Trey Wainwright feared the potential repercussions of the unanticipated overlap.
The apprehension came out as he watched Adam Wainwright mingle with participants during a fantasy football charity event on Friday afternoon. The date had been picked weeks ago, specifically so it would not line up with one of Wainwright's starts. But that was before the Cardinals altered their rotation.
It was then that Trey Wainwright first encouraged his brother to change the draft date so that it would not interfere with his game-day schedule. Adam Wainwright scoffed at the idea, insisting that the charity function go on as planned while also assuaging his brother's worries that the event could morph into negative publicity if his night on the mound went poorly.
Whatever words may not have accomplished, Wainwright's showing later in the day would.
Stepping up to give the bullpen a much-needed respite, Wainwright finished the game he started to lift the Cardinals to a 3-1 win over the Braves. Among the 41,134 at Busch Stadium to watch the Cards' third straight win were those fantasy football players with whom Wainwright had spent much of his day.
"It was a risk I was willing to take because of the great cause," said Wainwright, who raised $111,000 for charity before becoming the National League's first 15-game winner.
A go-ahead solo homer by Matt Holliday off Atlanta starter Kris Medlen in the sixth gave Wainwright the last bit of support he would need.
On a night when Edward Mujica was again unavailable due to back discomfort, manager Mike Matheny rode Wainwright for a season-high 128 pitches. Fortunately for Matheny, Wainwright was sharp to the end. He retired 10 of the final 11 batters he faced en route to securing his league-high fifth complete game. Only two other NL players have more than two, and just once in his career had Wainwright ever thrown more pitches in a game.
"He was amazing," said catcher Yadier Molina, who scored twice on his three-hit night. "Every pitch that I called, he made it. He's a warrior. He's a captain on this team. He knew that he needed to go all the way. He took charge."
"He's a guy that in a game like this, those are the kinds of statements that your ace loves to make," added Matheny. "We're not trying to fabricate something there, but that's how the game played out. That game was his. This is a staff that he's leading, and that's a great opportunity for him to do it."
After giving credit to Atlanta's offense when it knocked him around on the road last month, Wainwright faced only one serious threat on Friday. It came in the sixth, which Medlen opened with a leadoff single.
The Atlanta righty moved to third on a pair of productive outs before scoring when Freddie Freeman dropped a game-tying single to right. Another single moved Freeman to third, and it took an over-the-head, backward-running catch by third baseman Matt Carpenter to strand the first baseman there.
"I glanced to my right, saw where everybody was and knew I was the only guy who had a chance to make the play," Carpenter said. "I just stabbed at it and caught it."
Wainwright waited near the mound to thank Carpenter as the rest of the team retreated to the dugout. "Amazing," Wainwright termed the catch afterward.
The Cardinals inched back ahead in the bottom of the frame when, after fouling off three two-strike pitches, Holliday eventually connected for a 432-foot blast. It was his 17th homer and 20th go-ahead RBI of the year.
"I thought it was one of his best at-bats of the season," Matheny said. "He was fighting off tough pitches, continued to just grind it out. You could tell his timing was right, that he was seeing the ball well and that he was waiting for a pitch that he could drive."
"Once again, it comes down to one or two pitches," said Medlen. "Holliday is too good of a hitter to leave a pitch over the plate like that, especially in a tie game."
Molina and Jon Jay -- who produced a second-inning run with consecutive doubles -- sparked some seventh-inning insurance scoring, too. Hits by both, followed by a one-out walk to Daniel Descalso, gave Wainwright an opportunity to help his own cause. Though Wainwright's pitch count already sat at 101, Matheny said there was no hesitation in sending his ace to hit.
Wainwright delivered with a sacrifice fly.
The swing, though, was a footnote to his night on the mound. Wainwright has now made seven straight seven-inning starts, and he improved his strikeout-to-walk ratio to 7.28. With nine strikeouts, Wainwright also passed teammate Chris Carpenter to move into third place all-time among Cardinals pitchers with 1,090 strikeouts.
Next in his sights? Dizzy Dean with 1,095.
"Just to pass Carp, I don't even know what to say about that," Wainwright said. "He's been my mentor, a guy who has taught me so much in this game as I have been a Cardinal."
Matheny had de factor closer Trevor Rosenthal warming up in case ninth-inning trouble arose, but he wanted to give his ace every opportunity to finish. Chris Johnson's one-out single brought Brian McCann and Andrelton Simmons to the plate as potential tying runs. Wainwright struck out his good friend McCann before catching a break when Simmons mistimed one of Wainwright's few mistakes.
It sealed Wainwright's 16th career complete game.
"I think it's one of the best days I can remember, not even baseball-wise. Just days, period," Wainwright said as he closed a 12-hour day at the ballpark. "We did such a cool thing this morning, raised a ton of money. ... But to then come here and beat the Braves and throw a complete game, I'm going to sleep well tonight."
Jenifer Langosch is a reporter for MLB.com. Read her blog, By Gosh, It's Langosch, and follow her on Twitter @LangoschMLB. This story was not subject to the approval of Major League Baseball or its clubs.