Bogaerts being used sparingly
Bogaerts being used sparingly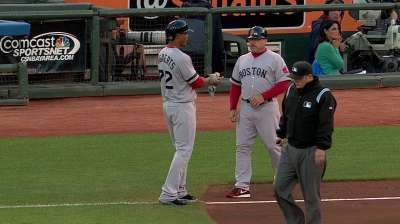 LOS ANGELES -- If Xander Bogaerts had been promoted to Boston earlier in the season, he actually might have gotten regular playing time. But it turns out his move to the Majors has come at a time when both shortstop Stephen Drew and Will Middlebrooks have been red-hot at the plate.
"Stephen has been on a good run for quite a while here, and Xander understands the situation," said Red Sox manager John Farrell. "We're all well aware of Xander's presence here, but at the same time, we can't get past what the production is of the left side of the infield. Right now, it's been pretty darn good."
Because Bogaerts had nearly a full season in the Minor Leagues, the Red Sox don't see a drawback to his decrease in playing time at the moment.
"Yeah, and we mentioned that the other day," said Farrell. "With over 500 at-bats at the Minor League level, we don't feel like him coming here and coming off the bench is impeding his development. He's had a full year at the Minor League level. Every at-bat he gets here will be valuable experience, particularly where he's at in his career. But there's not a mandate that says he's got to get X number of at-bats during a given week."
At the start of this three-game series at Los Angeles, Bogaerts wasn't in the starting lineup for the third time in the four games since his callup.
David Ortiz, who exited Wednesday's game with back tightness, was back in there at first base. Mike Napoli hasn't started a game on the road trip.
However, the plantar fasciitis issue in Napoli's left foot doesn't have anything to do with his recent inactivity. It's simply been a matter of Farrell losing a lineup spot without the DH.
Ian Browne is a reporter for MLB.com. Read his blog, Brownie Points, and follow him on Twitter @IanMBrowne. This story was not subject to the approval of Major League Baseball or its clubs.