Papi sets record straight on Dempster, A-Rod
Papi sets record straight on Dempster, A-Rod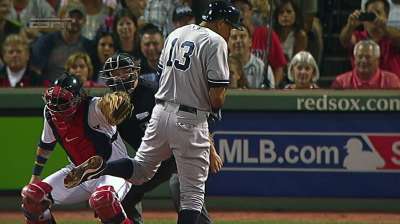 LOS ANGELES -- Red Sox slugger David Ortiz wanted to make one thing clear a day after his comments in the USA Today drew plenty of attention: He is not taking the side of Alex Rodriguez over teammate Ryan Dempster.
Ortiz is on the side of the Boston Red Sox, and that's the only reason he was disappointed in the timing of Dempster hitting A-Rod in Sunday night's game against the Yankees at Fenway.
When Dempster threw inside to A-Rod and then hit him during a four-pitch at-bat in the second inning of that game, Ortiz felt like it served as added motivation to both Rodriguez and the Yankees, who came storming back to win that night.
"All I said was that I didn't think that hitting A-Rod was right at the time and it was because that kind of woke him up and we ended up losing the game. Did I lie about that?" Ortiz said. "I think it was what everybody saw. I didn't say that I was mad at my teammates for hitting somebody, or I was mad that he hit A-Rod.
"I said it because I think you have to make sure to win every game possible. We've got Tampa Bay breathing down our neck, and they already won earlier that day. That's all I mean. I didn't mean anything else."
If Ortiz had spoken to the USA Today before adressing Dempster, perhaps it could have been divisive for the Red Sox.
The truth is that he spoke directly with Dempster the night he hit A-Rod.
"We already talked," Ortiz said. "He understands. He knows it's nothing against him or anyone else here. I respect my team, I respect everybody. Like I say, when I talk about this subject, I said very clear why I didn't like A-Rod getting hit at the time. People want to make a big deal about it. I don't [care]. That's me. I said what I feel and I tried to say it right. I'm here to win games -- I'm not here to get mad at nobody. That's me."
Dempster, who was serving the third game of his five-game suspension on Friday, was not available for comment.
"I don't think the comments David mentioned would have any lingering effects in our clubhouse," said Red Sox manager John Farrell. "I do know this: Ryan and David spoke Sunday night, and I think more than anything, David's comments were coming from the standpoint of not trying to give added incentive to the opponent, regardless of who the opponent is at the time, and just maintain our approach of going out and trying to win a ballgame on a given day."
Ian Browne is a reporter for MLB.com. Read his blog, Brownie Points, and follow him on Twitter @IanMBrowne. This story was not subject to the approval of Major League Baseball or its clubs.