Offensive outburst lets Lyles cruise against Blue Jays
Offensive outburst lets Lyles cruise against Blue Jays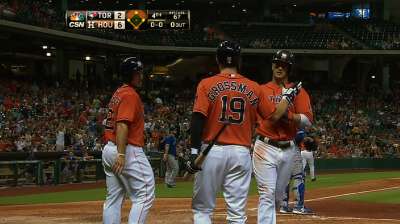 HOUSTON -- By the time the fifth inning rolled around Friday night, Astros pitcher Jordan Lyles may as well have taken a rocking chair to the mound. An offensive outburst by his teammates made the rest of his night rather carefree.
The Astros broke open a close game by scoring five times in the fourth inning, highlighted by a two-run triple by Jonathan Villar, and Lyles took it from there, holding the Blue Jays to 10 hits and four runs in 7 1/3 innings to snap a six-game losing streak at Minute Maid Park with a 12- 4 win.
With the top three hitters in the lineup -- Robbie Grossman, L.J. Hoes and Jose Altuve -- going a combined 6-for-11 with four runs scored, the Astros enjoyed their biggest night of offense since an 11-0 win at Baltimore on July 31.
"It's good when you have days like this," Hoes said. "Everyone seems to be clicking on all cylinders. These are fun games. Everybody's upbeat and happy about this, and you'll sleep well at night when you have games like that."
It was the second consecutive solid start for Lyles (6-6), who threw seven innings and allowed one run Aug. 13 at Oakland before throwing 2 1/3 innings out of the bullpen Sunday in Anaheim. He battled command issues early, but got into a groove after he was spotted a six-run lead.
"Offense, can't talk about enough them," Lyles said. "They made it easy to come back out there in the fifth and pound down-and-away fastballs, and I got a couple of quick outs and got the pitch count back in our favor, so really, it was all about the offense. I just tried to stay out of the way."
The Astros are hitting .290 as a team in the 10 games since they were held to one hit by the Rangers' Yu Darvish and Joe Nathan on Aug. 12. They are 5-5 in that span.
"We've actually been swinging the bats pretty good," manager Bo Porter said. "I think we had some tough luck where some of the balls in which we squared up happened to find gloves and get caught. I felt like we had some patient at-bats that allowed us to get some walks we hadn't been getting, and we didn't expand our zone, which put some more pressure on the pitcher. When you start putting multiple guys on base and getting those big hits, that's how you put up the type of runs we put up tonight."
The Astros jumped on Jays starter Todd Redmond (1-2) for eight runs (seven earned) and eight hits in 3 1/3 innings. He allowed all five runs in the fifth inning that gave the Astros an 8-2 lead and put Lyles in the driver's seat.
"I would throw one good pitch and then I'd throw two bad pitches, and one of those two bad pitches would get hit," Redmond said. "I just didn't have it tonight."
Lyles needed only eight pitches to throw a 1-2-3 fifth inning and six to mow through the Jays in a perfect sixth. He retired nine batters in a row before Ryan Goins hit a two-out single in the seventh inning for his first Major League hit.
"The offense puts up runs in the first five innings, and it makes it a little bit easier to pitch just trying to attack guys," Lyles said. "My command wasn't there the first couple of innings, but we got that big lead, and all that pitching and stuff goes out the window. It's time to get quick outs."
Matt Dominguez, who homered in the second, drew a walk to start the fourth and went to third on a Brett Wallace double. After Brandon Barnes shot an RBI single up the middle, Villar tripled to center field to score a pair and stretch the lead to 6-2.
Villar, who also tripled in the second inning, scored on a Grossman sacrifice fly, and Jason Castro tripled past a diving Anthony Gose in straightaway center field to score Hoes and put the Astros ahead, 8-2.
Grossman added an RBI single in the fifth to make it 10-2, then smacked a two-run homer in the seventh to give him a career-high four RBIs. He's hitting .347 since he was called back up to the Majors on July 27.
"It's about confidence," he said. "I'm enjoying myself and playing hard and going out there to win every night."
The Jays got solo homers from Edwin Encarnacion in the first and J.P. Arencibia in the fourth, and a two-run homer by Brett Lawrie in the eighth that chased Lyles from the game. Lyles allowed more than one homer in a game only once before in 19 starts this year.
"After you get a big lead like that, you just have to protect the zone and not fall behind too many guys," Lyles said.
Brian McTaggart is a reporter for MLB.com and writes an MLBlog, Tag's Lines. Follow @brianmctaggart on Twitter. This story was not subject to the approval of Major League Baseball or its clubs.