Rays' four homers plenty to end Yanks' run
Rays' four homers plenty to end Yanks' run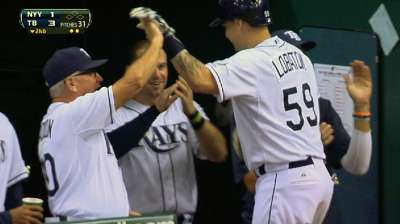 ST. PETERSBURG -- Returning from an off-day to play a game has been a quirky season-long malady for the Rays.
Heading into Friday night's clash with the Yankees, Tampa Bay had gone 1-10 on the season in games following off-days; the club was riding a stretch of eight consecutive losses in games after a day off.
So facing tough right-hander Hiroki Kuroda and one of the hottest teams in baseball following an off-day looked like trouble for the Rays. But the club managed to flip its karma at Tropicana Field on Friday night with a 7-2 win, a well-played game that featured Jose Lobaton's four-RBI performance, a quality start by Chris Archer and top-shelf defense.
Tampa Bay (73-53) has won seven of its last 10 games and improved to 8-6 against the Yankees this season. New York (68-60) saw its win streak snapped at five games, falling to six games behind Tampa Bay in the American League Wild Card race.
"I really liked the camaraderie, the vibe, the whole thing about our guys," Rays manager Joe Maddon said. "The Yankees came in here relatively warm -- very warm, actually. Hot. And we came out and played really well against a very good pitcher."
Lobaton got the Rays' home run parade going in the second, when he connected for a three-run blast that hit the right-field foul pole.
"It was nice to see that," Maddon said. "He hit that ball so hard it couldn't hook."
Added Lobaton: "When I saw the ball hit the pole, I was happy to put the team ahead."
Evan Longoria and Matt Joyce added back-to-back home runs in the third to push the Rays' lead to 5-1.
New acquisition David DeJesus doubled with one out in the fourth and scored the Rays' sixth run when Lobaton again came through with a single through the middle. Lobaton is now 9-for-17 in his last five games after going 5-for-44 in his previous 14.
"I'm seeing the ball better," Lobaton said. "I've been working a lot with [hitting coach Derek Shelton] and [Major League coach Jamie Nelson], trying to make more contact. I think the hard work is getting successful now. I'm hitting the ball. I'm not going to hit 20 or 30 homers a year, but if you hit the ball, you have a chance. I just want to help the team win."
Ben Zobrist hit a solo home run in the fifth that gave the Rays a 7-1 lead.
The seven runs were the most Kuroda had allowed in a game all season.
"I didn't have precise control today; that led to bad counts," Kuroda said. "I got behind and got hit hard."
Archer managed to right the ship after surrendering an RBI single to Alfonso Soriano in the first inning. The 24-year-old right-hander allowed just one more run while holding the Yankees to four hits in seven innings to pick up his seventh win of the season.
"Confidence comes with success, and I've had a little of that," said Archer, who appears more calm with each outing. "I've toned my energy down a little bit, but I wouldn't say I'm a completely different pitcher. … I'm executing pitches better. It doesn't rattle me. I try to stay even keeled. I'm going to show emotions. That's just me. I'm staying more consistent with my thoughts. If you want to call that less rattled, you can, but I'm just in better control of my emotion."
Meanwhile, Archer moved to 3-0 with a 1.23 ERA in three starts against the Yankees this season, becoming the first rookie with three wins over the Yankees in a season since Kevin Brown did so while pitching for the Rangers in 1989.
"It all starts with the pitching, from our perspective," Maddon said. "Archie was good. He was really good. He had great stuff again."
Rays starters had gone seven innings in just two of their previous 11 games prior to Archer's quality start. The team is now 32-8 in games in which its starter has gone at least seven innings.
Joyce aided Archer's cause with a nifty play on Curtis Granderson's drive to right with one out in the third. Joyce ran in to make the grab, then threw to James Loney at first to double off Brett Gardner, who was running on the play.
DeJesus also weighed in defensively, making a running grab at the wall of Chris Stewart's two-out drive off Archer with two aboard in the seventh.
"That was a big play," Maddon said. "That could have really swung the game back and moved the momentum to their side. [DeJesus] had a really nice day."
Maddon smiled when asked if the Rays had sent a message to the Yankees with the win.
"We delivered a Friday night message -- that's it, man," Maddon said. "I have a lot of respect for what they're doing. They have two really good pitchers coming up [in CC Sabathia and Ivan Nova]. ... They're not going away. They're going to be fine tomorrow. We have to come out and play a good game."
Bill Chastain is a reporter for MLB.com. This story was not subject to the approval of Major League Baseball or its clubs.