Kuroda's rare off night halts Yanks' run at five
Kuroda's rare off night halts Yanks' run at five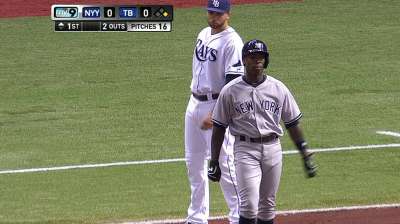 ST. PETERSBURG -- The pinpoint command that has allowed Hiroki Kuroda to shine at the front of the Yankees' rotation took a night off on Friday, and the hurler was forced to ride out his roughest outing of the season thus far.
Kuroda tied a career high by serving up four home runs and the Rays delivered a reminder of how challenging a climb back into the postseason race could be, pounding the Yankees, 7-2, in the opener of a three-game series at Tropicana Field.
"Overall, I wasn't sharp," Kuroda said through an interpreter. "There were a few homers that I could have avoided, so I felt really bad. I didn't have precise control today; that led to bad counts. I got behind and got hit hard."
Jose Lobaton clanged a three-run homer off the right-field foul pole, Evan Longoria and Matt Joyce slugged back-to-back solo shots and Ben Zobrist also went deep as the Rays snapped the Yankees' five-game winning streak.
"Everyone probably wondered what's going on when you see Kuroda giving up a homer, and another one and another one and then another one," Yankees outfielder Brett Gardner said. "He's been so good all year. He's not perfect."
Kuroda, who also tied his career high with seven runs allowed, had not surrendered a home run since June 30 at Baltimore -- a span of 57 2/3 innings. The clunker came after he allowed a season-high 11 hits in his last start, against the Red Sox at Fenway Park.
"Obviously, the team was on a roll, and the fact that I couldn't contribute today to the team was disappointing," Kuroda said.
Yankees manager Joe Girardi said that he stuck with Kuroda for 104 pitches in part to save the bullpen, but also because he thought Kuroda might eventually be able to find his command.
"It was really strange," Girardi said. "He just didn't have his stuff tonight. He kept trying to find it and find it, but I didn't think his slider was extremely sharp and I didn't think he had the great command of his fastball tonight."
Lobaton's second-inning homer gave the Rays a lead they would not relinquish, supporting right-hander Chris Archer, who beat the Yankees for the third time in three starts this season.
"The defense was incredible," Archer said. "We made play after play, so I was just getting more comfortable out there. The fact that my family was here ... I really didn't feel like I could fail."
Archer limited the Yankees to two runs and four hits over seven innings, becoming the first rookie to post three wins against the Yankees in a single season since the Rangers' Kevin Brown in 1989.
"He's got good stuff, there's no doubt about it," Girardi said of Archer, who has allowed just three runs in 22 innings to New York. "But I thought we had better at-bats against him today."
Alfonso Soriano offered the Yankees a promising start by connecting for a run-scoring single in the first inning, but Archer settled in to hold the Yankees quiet until the sixth, when Gardner tripled to left-center and scored on a Robinson Cano groundout.
"When you lose the first game of a three-game series, it's tough to win the next two, especially on the road against a team like the Rays," Gardner said. "They've been playing good ball all year, and hopefully, the way we've been playing recently, we can get a good one tomorrow."
Gardner's hit was a good sign for the Yankees, as they held their breath after the speedster was drilled on the right hand by a 95-mph Archer fastball in the third inning.
The pitch hit Gardner in essentially the same area that the Blue Jays' R.A. Dickey nailed Jayson Nix on Wednesday in New York, fracturing Nix's left hand, but Gardner said that his hand was only mildly swollen.
Gardner said the Yankees want to send him for tests before Saturday's 7:10 p.m. ET first pitch, but the outfielder would prefer to skip the trip to the X-ray machine. Part of that, no doubt, is because the Yankees could use his bat against top-notch pitching like Archer, David Price and Alex Cobb.
"I still like our chances," Gardner said. "I feel like we're in a good place and we're a whole lot better off than we were two weeks ago. We've still got some time left."
Faced with just their third loss in 13 games, the Yankees threatened to get back into the game in the seventh inning. David DeJesus made a splendid running catch into the left-field wall, taking an extra-base hit away from Chris Stewart and stranding two runners aboard.
"I put my head down and was thinking automatic double," Stewart said. "I heard the crowd go crazy, and apparently, the ball was in his glove. That's just kind of the way things went tonight."
Bryan Hoch is a reporter for MLB.com. Follow him on Twitter @bryanhoch and read his MLBlog, Bombers Beat. This story was not subject to the approval of Major League Baseball or its clubs.