Tribe drops opener against Twins as chances slip
Tribe drops opener against Twins as chances slip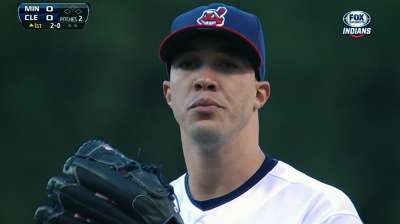 CLEVELAND -- Michael Bourn dropped his bat and did a little hop in the direction of first base after drawing a leadoff walk in the sixth inning Friday night. Two pitches later, the Indians center fielder sprinted for second, collecting a steal to set up a Cleveland rally.
In a game that aligned perfectly for a comeback, the Tribe just could not pull it off.
The Indians had a strategic breakdown in a critical sixth inning, paving the way for a 5-1 loss to the Twins in the opener of a three-game series at Progressive Field. The missteps by the Cleveland offense made the few mistakes within Ubaldo Jimenez's enigmatic outing all the more glaring, and ultimately cost the Tribe ground in the standings.
"We haven't lost any momentum," Bourn said. "We're still all right. We just lost a game. That's all it was."
After winning six of the past nine games on the road, Cleveland (69-59) returned home and swiftly slipped to six games behind the first-place Tigers in the American League Central. With Oakland also losing to Baltimore on Friday, the Indians remains 2 1/2 games back of the second Wild Card spot, but the Orioles moved ahead of the Tribe by a half-game.
At the time of Bourn's swipe of second base, the Indians trailed the Twins, 2-1. Nick Swisher followed by drawing a walk against Minnesota right-hander Samuel Deduno, who offered the Tribe plenty of chances to swing the momentum in its favor in his six innings of work. The two-on, none-out situation in the sixth was the ideal time for the Indians to make their move.
"We should've been able to score," Bourn said.
With the potential tying run on second base, second baseman Jason Kipnis -- Cleveland's No. 3 hitter -- opted to attempt a bunt. Kipnis misfired on a couple of tries before working back to a 2-2 count against Deduno. The Twins starter then froze Kipnis with a pitch that tailed over the outside corner, notching a crucial strikeout.
"We get first and second and we didn't get the bunt down," Indians manager Terry Francona said. "I had him bunting just because he's had a tough time with Deduno. ... So that would be on me."
Standing at his locker in the wake of the loss, Bourn shouldered the blame for what followed.
With Carlos Santana at the plate, Bourn bolted for third base and Swisher followed his lead, attempting a double steal. Twins catcher Chris Herrmann came up firing, making a perfect throw to nab Bourn as he slid into the base head-first. After Santana drew a walk, Deduno forced Michael Brantley into an inning-ending groundout.
Just like that, a promising inning turned into a disastrous one.
"It kind of killed the inning a little bit," said Bourn, who has 19 stolen bases in 29 attempts this season. "I mean, we still had chances. They ended up walking [Santana] and we had first and second. But, I think right there, if I would've stayed, we would've had bases loaded. That happens. I take blame for it."
Francona did not fault Bourn for rolling the dice.
"We encourage him to run," Francona said. "Every once in a while that's going to happen. ... He had a green light there. He didn't get a real good jump, but I like when he runs."
Minnesota took full advantage, adding three insurance runs against the Indians bullpen over the next two innings to spread the game out. Josh Willingham delivered a two-run double off right-hander Cody Allen in the seventh inning and Wilkin Ramirez used a groundout to bring a run home against Matt Albers in the eighth.
Add it all up, and Jimenez was hung with a loss.
The Twins (57-70) loaded the bases with no outs in the first inning, but Jimenez struck out Willingham, Ryan Doumit and Trevor Plouffe to escape the jam.
Minnesota then broke through in the second, when Clete Thomas sliced a pitch from Jimenez down the left-field line for a leadoff double. Two batters later, Pedro Florimon drove an offering from the right-hander to deep center for another two-base hit, bringing Thomas home to pull the game into a 1-1 tie. Herrmann gave the Twins a 2-1 lead with an RBI single later in the inning.
"The first three hitters get on," Francona said, "and I don't know if [Jimenez] got mad, but he reared back and competed and let it go. I thought tonight was the best stuff he's had all year. Early, he didn't command real well, and he didn't come in, especially to left-handers. They were kind of leaning out over the plate and they hit those doubles.
"But then he started coming in and mixing up his pitches and he was really good."
Jimenez settled down and got locked in, breezing through a string of 11 consecutive Twins batters retired between the second and sixth inning. Jimenez (9-8) departed after logging 114 pitches in six frames and despite the traffic -- he allowed five hits and walked three -- the pitcher dodged harm at a variety of turns, and ended the evening with a season-high 10 strikeouts.
"I felt pretty good," Jimenez said. "After the first couple hitters in the first inning, I was able to get it going."
Bourn did what he could to get the Tribe offense going, too.
He felt responsible for falling short.
"It happens like that sometimes," Bourn said. "That's part of being a basestealer. If I feel like I'm going to get it, I'm going to try to get it. It was me. It was all me. And that [loss] was on me."
Jordan Bastian is a reporter for MLB.com. Read his blog, Major League Bastian, and follow him on Twitter @MLBastian. This story was not subject to the approval of Major League Baseball or its clubs.