Bochy rests Scutaro on Friday against Pirates
Bochy rests Scutaro on Friday against Pirates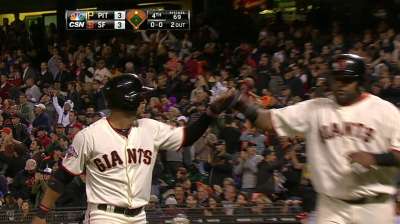 SAN FRANCISCO -- Giants infielder Marco Scutaro was not in the starting lineup Friday night and will likely be given a few more days off this season.
Scutaro has had ongoing problems with an injured finger and a sore back.
"He's a guy who will need a break during the offseason," Giants manager Bruce Bochy said. "He'll get some day games off because it is a little easier to get loose for night games."
Rick Eymer is a contributor to MLB.com. This story was not subject to the approval of Major League Baseball or its clubs.