Rizzo still batting second in opener vs. Padres
Rizzo still batting second in opener vs. Padres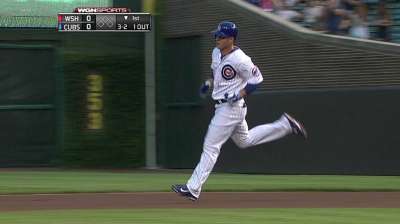 SAN DIEGO -- For the third straight game, Anthony Rizzo was batting second for the Cubs on Friday. How much longer does manager Dale Sveum plan to keep Rizzo there?
"I don't know," Sveum said, chuckling. "It worked for one day. I wasn't going to change it [Thursday], and I'm not going to judge what anybody did off [Stephen] Strasburg. We were fortunate to score four earned runs off him in nine innings."
On Wednesday, in Rizzo's first game batting second, he delivered two home runs and three RBIs. He followed that by going 0-for-6 Thursday, but four of his at-bats were against the Nationals' Strasburg.
Rizzo entered Friday's opener against the Padres batting .229 overall and .162 in August. Even more troubling, and one of the reasons he was moved up in the order, is that he was batting .173 with runners in scoring position.
"The average [is down] and obviously there are some problems with men in scoring position," Sveum said of the first baseman. "It's his first full year in the big leagues. Sometimes we forget about that. Obviously, he came up last year and did a nice job, but we forget this is his first full year with pressure on him.
"When his first full year gets done and it says 25 [home runs] and 80 [RBIs], there are a lot of players who have gone through this game and not had 25 and 80 in their first full season."
What Sveum hopes is that Rizzo and others who had a tough time against Strasburg and others do not take games like Thursday's too hard.
"Sometimes you run into pitchers, and we've run into all the better teams and all the better pitching staffs in the last two, three weeks," Sveum said. "This is the best pitching in baseball I've seen in my 30 years in baseball. These guys have to understand you have to tip your hat to 97 miles an hour and great breaking balls. It's not that easy."
Carrie Muskat is a reporter for MLB.com. She writes a blog, Muskat Ramblings, and you can follow her on Twitter @CarrieMuskat. This story was not subject to the approval of Major League Baseball or its clubs.