Stuck ball leads to inside-the-park HR, Ventura ejection
Stuck ball leads to inside-the-park HR, Ventura ejection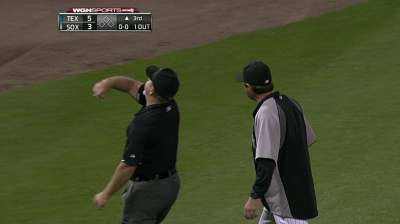 CHICAGO -- Robin Ventura was ejected by third-base umpire Greg Gibson during the top of the third inning of Texas' 11-5 victory over the White Sox in Friday night's series opener at U.S. Cellular Field. Ventura was thrown out for the second time this season and sixth time in his career, arguing ground rules regarding an inside-the-park homer for Ian Kinsler.
Kinsler hit a soft liner just fair down the left-field line that eventually wedged under the padding along the wall. Left fielder Dayan Viciedo raced over toward the baseball and held up his hand to signal it was unplayable, but Viciedo then bent down and tried to pick up the ball. Viciedo's throw overshot the cutoff man and Kinsler raced around to score, with Gibson waving off any play stoppage.
Ventura, who also was ejected on July 23 in a game against the Tigers, explained postgame that there was nothing automatic in the ground rules to make the hit a ground-rule double. But ….
"Usually when a guy is crawling on his hands and knees, he's looking for help. It makes sense," Ventura said. "[Gibson] just said he saw it. I figured [Viciedo] got on his hands and knees to go get it, you'd think it would be lodged under there pretty good and they'd rule a double. But they didn't."
A frustrating year plagued by a lack of run support for Chris Sale took another hit with this call. The White Sox had rallied to cut a four-run deficit to 4-3 when Kinsler connected off the White Sox ace with one out in the third for the first inside-the-park homer allowed by the White Sox since Carl Crawford on July 20, 2009, for the Rays in Chicago.
"You see [Viciedo] like a mechanic on his hands and knees, getting underneath the car trying to get to that," said Sale. "I know he did everything he could to get to it and try to make the right play.
"So, it's just … baseball is a crazy sport. You never know what you are going to get from it. Crazy things happen in this game and probably not the last time it's going to happen."
Scott Merkin is a reporter for MLB.com. Read his blog, Merk's Works, and follow him on Twitter @scottmerkin. This story was not subject to the approval of Major League Baseball or its clubs.