A's outslugged by O's, Wild Card lead trimmed
A's outslugged by O's, Wild Card lead trimmed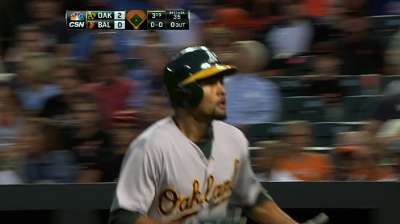 BALTIMORE -- Coco Crisp stoically stood at his locker following another tough loss to Baltimore and defended his teammates for the way they continue to fight despite a recent skid that has them scrambling for their playoff lives.
Oakland righty Dan Straily had another shaky outing and the A's squandered a huge effort by Crisp, who had four hits, including a home run, in a 9-7 loss to the Orioles on Friday night at Camden Yards.
With the victory, the Orioles pulled to within two games of the A's for the second American League Wild Card spot.
"We're going to go out there and play as hard as we can," Crisp said. "And if we end up making it to the playoffs, that would be fantastic. If not, we knew we gave it our best shot, and that's what everyone in here is doing right now."
Straily allowed six runs on four hits with two strikeouts and four walks over just 3 1/3 innings. He is 0-5 with a 5.20 ERA in seven starts since being recalled from Triple-A Sacramento on July 20.
Crisp hit his 12th homer and also scored three times while tying his career high with the four hits. Brandon Moss added two hits and went deep for the 21st time this season.
Baltimore starter Bud Norris also struggled, allowing seven runs on nine hits with seven strikeouts and three walks over 4 2/3 innings. In four starts against the A's this season, Norris has allowed 18 runs in 17 1/3 innings for a 9.35 ERA.
Adam Jones hit his 27th home run and Brian Roberts connected on his sixth career grand slam for Baltimore as part of a six-run fourth that gave the Orioles a 6-3 lead.
"It's fun," Roberts said. "This is what we all play for. You want to be in the race in August and September, and I haven't had a whole lot of opportunities to do that in my career, unfortunately missed the fun last year. So to be able to contribute and be a part of it and just be one of the 25 guys is awesome."
Oakland fought right back after the O's big frame, scoring four times in the fifth on an RBI double by Jed Lowrie, an RBI single by Josh Donaldson and a two-run single by Eric Sogard to to take a 7-6 lead.
"There were a lot of things I liked today. We just didn't pitch well," Oakland manager Bob Melvin said. "Offensively, we did some really good things. I thought the effort level, energy was really good today. I was happy with everything today, other than the result."
In a game of swings, Baltimore answered in the seventh with three runs on an error by second baseman Sogard that allowed Nate McLouth to score, an RBI grounder by Adam Jones and an RBI single by Nick Markakis off Ryan Cook, who took the loss.
"It doesn't really matter what the contact was like, to be honest with you," Cook said. "The end of the day, the results didn't happen. [Sogard] makes that play 99 times out of 100. It just got away. I'm frustrated. I haven't been this frustrated in a long time."
Oakland has now dropped three consecutive games.
The A's opened the scoring in the first when a sharp grounder by Moss deflected off a diving Chris Davis' glove and rolled into shallow right field, scoring Crisp.
Crisp and Moss then hit solo home runs off Norris in the third to extend Oakland's lead to 3-0.
"I felt like the two home runs balls were bad pitches, but I felt like there were a lot of other good pitches in there too," Norris said. "Sometimes, it's maybe the pitch sequence and so forth and doubling up on certain pitches. But it's something I'm going to look back and then talk to [Matt] Wieters about, and hopefully we can go from there."
Todd Karpovich is a contributor to MLB.com. This story was not subject to the approval of Major League Baseball or its clubs.