Sizzling Davis carries Crew with pair of homers
Sizzling Davis carries Crew with pair of homers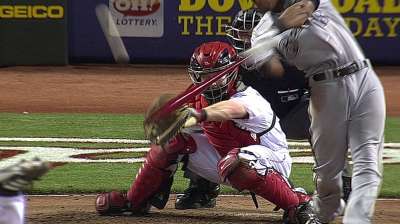 CINCINNATI -- Brewers manager Ron Roenicke's face lit up when he talked about Khris Davis on Friday night. The same was true of starting pitcher Yovani Gallardo when he was asked how impressed he's been with the slugging left fielder.
For Davis, who hit a pair of two-run homers to lead the Brewers to a 6-4 win over the Reds at Great American Ball Park on Friday, nothing could be more satisfying.
"That's a good feeling," Davis said. "A lot of guys have smiles on their faces. Whatever I can do to help my teammates is amazing. It's about them, really."
Locked in a 3-3 tie in the top of the eighth, Davis followed an Aramis Ramirez walk with a two-run homer -- his second in three innings -- to put the Brewers on top. Two batters later, second baseman Scooter Gennett extended the lead with his fifth homer of the season, giving the Crew all the insurance it needed.
Friday marked the first multi-homer game of Davis' career. Chances are, though, it won't be the last.
"I don't see any flaws in him right now, offensively," Roenicke said of Davis. "I mean, he's really doing a good job. He goes up there and battles. Some other guys swing hard, but it's different with him, because he sees the spin well. He lays off bad pitches. He's going to chase one once in a while; everybody does. But consistently, he's laying off the bad pitches, and it's getting him ahead in the count.
"When he gets that ball where he wants, it's fun to watch."
Davis' home runs extended his hit streak to nine games, a stretch in which he's batting .467 (14-for-30) with five homers and nine RBIs to go with nine runs scored. He has just four strikeouts in those 30 at-bats, and he's homered in each of his last two road games.
He's also a 25-year-old rookie who appeared in the 38th game of his career on Friday.
"I think it's just a matter of being confident," said Gallardo, who added that he's been impressed with Davis since he saw him in Spring Training. "I think he's feeling confident at the plate, and he's willing to go the other way, which I think is a big challenge when you face a hitter with power that's willing to drive the ball the other way and can still hit it out of the park."
Before Davis' power display, the early stages of Friday's game appeared to be the beginning of the pitchers' duel many expected after Gallardo and the Reds' Homer Bailey each delivered impressive outings in the last series between the teams.
Despite a throwing error by Todd Frazier that allowed Norichika Aoki to reach in the first at-bat of the game, Bailey had little trouble in the first two innings. He then allowed the first run of the night in the top of the third, when Gennett singled to lead off the inning and eventually crossed home plate on an Aoki single.
Meanwhile, Gallardo surrendered just two hits in the first three innings, but the Reds got to him in the bottom of the fourth, while also taking advantage of a miscue by Brewers center fielder Carlos Gomez. With runners on first and second following a base hit and a walk, Cincinnati shortstop Zack Cozart hit a two-out single to center field. Gomez, in his first game back since suffering a sprained right knee on Aug. 15, bobbled the hard-hit drive, allowing both runners to score.
"I think if Gomey is 100 percent, he's got a chance to catch that ball," Roenicke said.
Gomez was replaced in the eighth inning by Logan Schafer, who pinch-ran for Ramirez in the top of the frame. However, Roenicke said that was not an indication that anything more was wrong with Gomez's knee.
Following a double by Ramirez to open the sixth, Davis hit his first two-run homer -- a 428-foot blast -- to put the Brewers ahead, 3-2, but Brandon Phillips tied the score in the bottom half of the inning with a solo shot.
Gallardo and Bailey both went six innings. The only difference in their lines was that one of the three runs scored against Gallardo was unearned. Both right-handers allowed six hits, while walking two and striking out five.
"I felt good," Gallardo said. "I thought I was able to keep the ball down in the zone and get out of some jams whenever I needed to. I think that pitch to Phillips to tie it in the sixth, that was the one mistake that I made."
Rob Wooten allowed one runner to reach in the seventh on a hit by pitch, and he handed the ball off to Brandon Kintzler for the eighth. Kintzler retired the first two batters he faced, but two singles and an error allowed a run to score before he escaped with a groundout, setting up Jim Henderson for his 20th save of the season.
Friday's game was a welcomed way to cap a day that started with Roenicke and his players discussing Ryan Braun's recently released statement in which he admitted to and apologized for taking banned substances, which resulted in his 65-game suspension.
Davis, who has also been solid defensively, was called up for good on July 23 -- the day after Braun was suspended.
"He's one of the best young players I've seen come into the league," Reds manager Dusty Baker said. "They don't miss Ryan Braun much. I don't know if he could have done as much damage as he did today."
Jeremy Warnemuende is an associate reporter for MLB.com. This story was not subject to the approval of Major League Baseball or its clubs.