Rays confident Delmon has matured
Rays confident Delmon has matured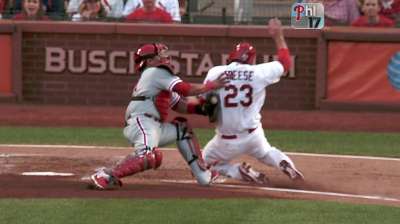 ST. PETERSBURG -- Manager Joe Maddon was Delmon Young's first Major League manager, and he's happy to have the veteran outfielder back with the Rays organization, even if the two had their differences of opinion the first time around.
The Rays inked Young to a Minor League contract on Thursday and sent him to Double-A Montgomery.
"I love the fact that Delmon is coming back," Maddon said. "We've had some good conversations over the last couple of years, primarily during Spring Training. I know he's not intimidated by moments. He knows how to drive in tough runs."
Young, who was selected by Tampa Bay with the No. 1 overall pick in the 2003 First-Year Player Draft, made headlines for the wrong reasons while playing for Triple-A Durham in 2006, when he flung a bat that hit an umpire.
"He was kind of young," Maddon said. "I had to do the things I had to do, and when you're that young, you also have to do things you have to do. I was a young male at one time, contrary to popular belief. I get all of that. I like the guy a lot. He's going to help bring us to the promised land."
Executive vice president of baseball operations Andrew Friedman also saw a more refined Young when he decided to pursue him.
"Twenty-two-year-old Delmon is very different from 27-year-old Delmon," Friedman said. "I've spent a good deal of time with him over the last few years. He has definitely matured. He really wanted to be a part of this organization again, and we think he'll fit in well."
Sam Strong is an associate reporter for MLB.com. Bryan Hoch is a reporter for MLB.com. Follow him on Twitter @bryanhoch and read his MLBlog, Bombers Beat This story was not subject to the approval of Major League Baseball or its clubs.