Padres not ruling out surgery for Quentin
Padres not ruling out surgery for Quentin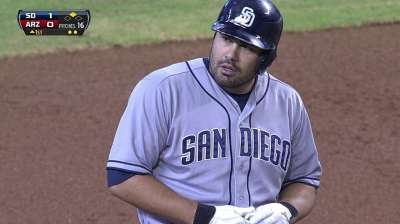 SAN DIEGO -- Carlos Quentin could be headed for surgery on his injured right knee, Padres General Manager Josh Byrnes and manager Bud Black said Friday. It would be the third knee surgery for Quentin since March 2012. Quentin has not played in a game since July 30.
While surgery is not inevitable, Byrnes said it was an option given that Quentin's knee had not yet recovered enough for him to get back on the field.
"At the very least, surgery is a possibility for Carlos," Byrnes said in an email. "I wouldn't say it is a foregone conclusion. We will see how he responds to the rest/rehab."
Black echoed Byrnes' sentiments regarding Quentin's situation, adding that Quentin would test the knee this weekend, most likely Saturday, before any determination about the 30-year-old outfielder's knee was made.
"He's going to run [Saturday], and then we'll have more of an idea about his status," Black said. "So, Carlos is going to just get some treatment, do his work inside. He is getting his hitting in in the cage; he's done some things there, but as far as running, he'll do that [Saturday]."
The surgery would allow Quentin to recover in the offseason, Black said, clarifying that returning this season was still possible.
"If this thing doesn't progress, the doctors are looking at a procedure that might help him progress over the wintertime," Black said. "I'll know more once he starts to run and whether he can play again. If he can play again, he's going to try to avoid [surgery]."
This would be the second straight offseason in which Quentin had a procedure on the knee. He also had surgery in March last year during Spring Training.
Tim Powers is a contributor to MLB.com. This story was not subject to the approval of Major League Baseball or its clubs.