Dodgers' Nolasco shuts down Red Sox
Dodgers' Nolasco shuts down Red Sox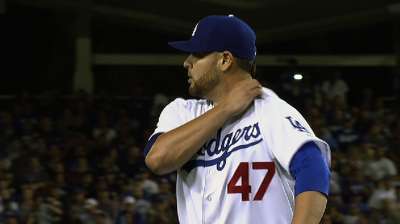 LOS ANGELES -- The Dodgers and Red Sox each say last August's blockbuster deal worked out for both clubs.
Carl Crawford, Adrian Gonzalez, Nick Punto and Josh Beckett are thrilled to be in Los Angeles, while Boston is back among the elite teams in the American League.
The Dodgers, though, won the battle of first-place teams on Friday night at Dodger Stadium, 2-0, as Hanley Ramirez homered, Crawford had two hits and two stolen bases and Ricky Nolasco dominated for eight innings.
The Dodgers have won four straight games, are 19-3 this month, 29-5 in the second half, 46-10 since June 22 and 12-6 in Interleague Play this season. Los Angeles is 24 games over .500 and leads the National League West by 10 1/2 games, both season highs.
"We've been playing great, and we're just staying focused, no matter who the opponent is," said Nolasco, who reached 10 wins for the sixth straight season. "Against good teams, we're playing well. Everybody is just doing their job and we have great balance throughout the whole team."
It begins with pitching.
The Dodgers lead the Major Leagues with 18 shutouts. The starting rotation has not allowed a run in its past 23 innings. Over the last 27 games since July 26, Dodgers starters are 18-2 with a 1.77 ERA and sevens starts with no earned runs allowed.
"I think with quality pitching, as you get deeper into the season, those guys start dominating," Dodgers manager Don Mattingly said. "We've continued to pitch well."
Of course, it All-Starts with Clayton Kershaw and Zack Greinke. Hyun-Jin Ryu has also been solid throughout his rookie season, and Nolasco has only added to the Dodgers' pitching riches. He's won his past four decisions and is 4-1 in nine starts with the Dodgers, who acquired him from the Marlins in early July.
"You just want to keep it going," Nolasco said. "You want to keep that competitiveness going between each other and keep trying to go out there and throw up zeros."
Ramirez, a former Red Sox prospect who debuted with Boston in 2005, lined a two-run shot to right-center in the fourth inning off John Lackey, who was perfect his first time through the Dodgers' lineup and limited L.A. to three hits over eight innings.
"He was trying to quick-pitch me, and I got my foot down and I made a good swing and got lucky the ball went out," said Ramirez, hitting .371 with four doubles, two homers and seven RBIs in nine Interleague games this season. "When you face a guy like him, you've got to stay tough and keep fighting until a mistake happens. We knew that it wasn't going to be easy against him."
Crawford started the inning with a leadoff single and stole second. Ramirez crushed his 13th home run of the season on the next pitch.
Crawford, outspoken about his desire to beat the Red Sox after two difficult seasons in Boston, singled and stole second again in the sixth. Over his past six games, the outfielder is 8-for-24 (.333) with three doubles and four RBIs. It was Crawford's first game with two stolen bases since April 6.
"I think any time you see guys get traded from one team to another, they always want to play well," Mattingly said. "I think that's just naturally there."
Nolasco didn't have much trouble against a Boston club that leads the Majors in scoring. He struck out six, walked none and gave up only two hits in his deepest outing with the Dodgers. Nolasco hit Daniel Nava with a pitch with one out in the fifth inning and gave up a single to Stephen Drew, but Will Middlebrooks' grounder to third baseman Juan Uribe started a double play that got the right-hander out of his only jam of the night.
"We know it was a big series against a great team and if you don't bring your game these guys can knock you around pretty good," Nolasco said. "I was just trying to stay focused and trying to keep a good tempo going."
Nolasco retired the last 10 batters he faced and said he was "just trying to match" Lackey as the game progressed.
"All the way around, this was a well pitched game on both sides," said Red Sox manager John Farrell.
Kenley Jansen entered in the ninth and nailed down his 22nd save, striking out two in a 1-2-3 inning. Jansen has converted 15 consecutive saves sine July 3, posting a 1.14 ERA in that span.
Austin Laymance is an associate reporter for MLB.com. This story was not subject to the approval of Major League Baseball or its clubs.