Wilson ready for home debut at Dodger Stadium
Wilson ready for home debut at Dodger Stadium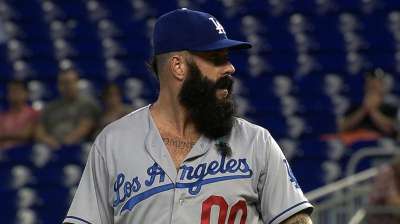 LOS ANGELES -- Brian Wilson has a World Series ring, so the Dodgers' newest reliever knows a good club when he sees one. And this Dodgers team has all ready made an impression on the former All-Star closer.
"When you talk about championship runs, usually it is a lot of luck involved and a lot of errorless baseball," said Wilson, who recorded the last out of the 2010 World Series with the Giants. "What I've been watching the past month or two is just dominating wins."
The Dodgers got hot long before Wilson signed as a free agent on July 30. Since June 22, Los Angeles is 45-10.
"Everybody is extremely comfortable in their environment," Wilson said. "They all know what they need to do, and they are consistent."
Wilson got his chance to get in on the fun Thursday in Miami, tossing a scoreless ninth inning in his first big league action since April 2011, before the right-hander required the second Tommy John surgery of his career. He said it was a good feeling to get that first appearance out of the way.
"It kind of proves your worth, so to speak," Wilson said. "I know the accolades and the resume that I might have had, and I guess that's kind of been wiped clean since surgery, which is totally fine with me."
One thing that hasn't been wiped clean is Wilson's beard, which isn't going anywhere, despite reports that a shaving company offered Wilson a large sum to shave it off.
"I would never consider doing that," he said.
As for his first game at Dodger Stadium as a member of the home team, the one-time rival said he wasn't sure what kind of reception he would receive.
"I'm used to getting booed here, and I used to love it," said Wilson, who chose No. 00. "Now that I'm double zero, maybe I'll get 'ooed.'"
Austin Laymance is an associate reporter for MLB.com. This story was not subject to the approval of Major League Baseball or its clubs.