Rays' newfound depth a 'good problem'
Rays' newfound depth a 'good problem'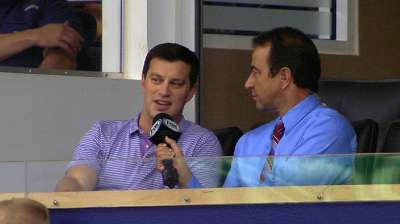 ST. PETERSBURG -- The Rays have made two acquisitions over the past two days, and with September's expanded rosters on the horizon, configuring the lineup card has suddenly become a more challenging task.
While manager Joe Maddon sees the difficulty in keeping everybody happy, he ultimately feels that depth can only help.
"It's going to be more difficult -- in a good way," Maddon said. "The difficult part is keeping everybody engaged. We have to be creative in resting people. I don't want anyone too tired. We've taken advantage of these off-days to keep everyone spiffy to this point, but we have to be careful moving forward. New players help that. It takes more than nine people to win a World Series."
David DeJesus found himself in left field on Friday, his first day with the Rays, while rookie Wil Myers hit the bench. DeJesus recorded his first hit with Tampa Bay in the bottom of the fourth, a one-out double.
"I have so much respect for all of these guys," Maddon said. "You don't want to turn the faucet off on someone and then all of a sudden need them, and he can't perform like he can. That's your fault for not keeping the guy engaged. It's a good problem to have. We have a lot of depth, and we have to figure out how to use it."
Rays executive vice president of baseball operations Andrew Friedman said the moves were not made because of a lack of confidence in the roster that was already in place.
"It's not a message," Friedman said. "It's not anything other than about winning. That's the primary motivator in our thought process. We feel like we've made ourselves a better team."
Sam Strong is an associate reporter for MLB.com. Bryan Hoch is a reporter for MLB.com. Follow him on Twitter @bryanhoch and read his MLBlog, Bombers Beat This story was not subject to the approval of Major League Baseball or its clubs.