One mistake costs Lackey in LA
One mistake costs Lackey in LA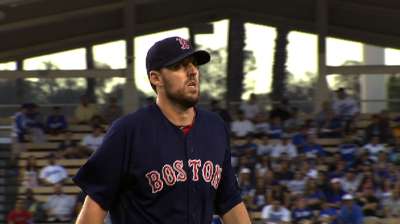 LOS ANGELES -- The storyline is getting annoyingly familiar for John Lackey. The right-hander keeps pitching well, with nothing but encouraging pats on the back to show for his effort.
It happened again Friday night at Dodger Stadium, as Lackey fired an eight-inning complete game, but the Red Sox lost to the Dodgers, 2-0.
In Lackey's 23 starts, Boston has been shut out five times and scored three runs or fewer 13 times.
So even as Lackey has made a terrific comeback from Tommy John surgery, he has an 8-11 record. Lackey's 3.17 ERA is of little consolation to him.
"I want to win the game. I didn't come here for ERA. I came here to try to win a championship," Lackey said.
For all the talk about Carl Crawford and Adrian Gonzalez leading in to this series, it was another player who used to be property of the Red Sox that came back to haunt his old team at Dodger Stadium.
Hanley Ramirez belted a two-run homer in the bottom of the fourth inning, and that proved to be the difference in the game.
Once a top prospect for the Red Sox, Ramirez was dealt to the Marlins for current Dodger Josh Beckett and Mike Lowell in November 2005.
"All I know is he was pitching good and I made a good swing," Ramirez said. "I was lucky the ball went out. Especially against a guy like him, you have to stay tough and keep fighting until a mistake happens. We knew it wasn't going to be easy with him. We ended up with a 'W.'"
The Boston bats, meanwhile, were completely stifled by Ricky Nolasco, who allowed two hits and no walks over eight innings.
"He had good stuff working," Stephen Drew said. "He definitely was mixing pitches really well. We hit balls hard at guys, and we don't have anything to show for it. Lackey threw his tail off, threw the ball well, and it just wasn't our night."
With the loss, the Red Sox dropped back into a first-place tie with the Tampa Bay Rays in the American League East. Tampa Bay actually leads Boston by two in the loss column. Of late, manager John Farrell's team has been in a bit of a rut, losing eight out of 13.
"We went through a stretch a while ago where we did this sort of thing and we came out of it," said Red Sox outfielder Daniel Nava. "I think everyone in this clubhouse believes we can. At the same time, it's frustrating that we haven't as of late."
Meanwhile, the Dodgers just keep chugging along, with a 29-5 record since the All-Star break.
"We know it was a big series against a great team and if you don't bring your game these guys can knock you around pretty good," said Nolasco. "I was just trying to stay focused and trying to keep a good tempo going."
This was the first regular-season game at Dodger Stadium for the Red Sox since 2002.
Crawford set the table in the fourth when he led off with a single to right. With two outs, Crawford stole second. Ramirez then belted a two-run homer to center.
The deficit loomed large the way Nolasco was pitching.
For the entire contest, the only semblance of a rally the Sox had was in the top of the fifth, when Nava was hit by a pitch and Drew drilled a single into right. But Nolasco got a double play off the bat of Will Middlebrooks to end the inning.
"You're never thinking you're only going to get one [rally] in that point of the game," said Farrell. "But he stayed strong. He was not only committed to the pitches he was throwing, but he was durable. He carried all of his stuff all the way through the eighth innings of work tonight."
The same was true of Lackey.
"Their guy was really good," said Dodgers manager Don Mattingly. "I know he struggled over there last year, had some injuries and stuff like that. But this looks like the old guy I saw with the Angels. He's throwing the ball good."
In the meantime, all Lackey can do is hang with 'em, hoping his fortunes will turn around at some point.
"Well it's frustrating for us, too," said Nava. "We want to go out there and give him some runs. He has pitched well and it's frustrating because you want to give a guy, who is giving a good outing like that, you want to be able to support him. It's not lot for a lack of effort."
Ian Browne is a reporter for MLB.com. Read his blog, Brownie Points, and follow him on Twitter @IanMBrowne. This story was not subject to the approval of Major League Baseball or its clubs.