Gindl recalled after tearing it up in Minors
Gindl recalled after tearing it up in Minors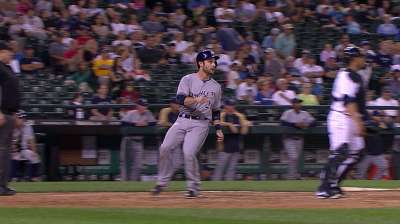 CINCINNATI -- When Caleb Gindl was sent down to Triple-A Nashville on Aug. 14, manager Ron Roenicke told him that it had nothing to do with his play and was more about the Brewers' need for pitching.
Roenicke was pleased to see that Gindl, who was recalled Friday after playing the minimum 10 days in the Minors, did not appear discouraged by the demotion, as the 24-year-old outfielder batted .300 (9-for-30) with a homer and six RBIs in seven games for Nashville.
"Any time we send somebody down, either they're depressed because they're going back down, or they're mad because they're going back down, and all of a sudden, they don't play as well," Roenicke said. "He didn't get sent down because he wasn't doing well. He got sent down because we had a couple issues with our pitching that we needed to have another pitcher, so he was the guy we sent down. I explained that to him. I think he knows that. He went down, he played hard."
Roenicke said that Gindl has been impressing a lot of people in the organization as he competes for playing time with Logan Schafer and Khris Davis, and that his promotion back to the Brewers was imminent. In 32 games for Milwaukee entering Friday, Gindl batted .282 (22-for-78) and drove in six runs while drawing 10 walks.
Milwaukee also added right-handed reliever Rob Wooten off the paternity list after the birth of his first child. As a result, Roenicke said every reliever was available on Friday.
"It can change in a hurry," Roenicke said. "Right now, we're in good shape."
Jeremy Warnemuende is an associate reporter for MLB.com. This story was not subject to the approval of Major League Baseball or its clubs.