Gomez, Aoki return to Brewers' lineup Friday
Gomez, Aoki return to Brewers' lineup Friday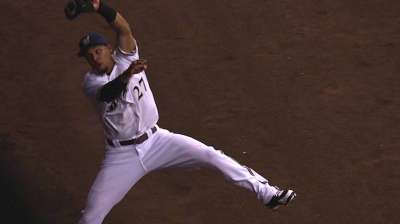 CINCINNATI -- Carlos Gomez started in center field for the Brewers on Friday for the first time since Aug. 15, when he sprained his right knee colliding with the wall at Miller Park while making a stellar catch. Right fielder Norichika Aoki, who missed Wednesday's game with a sore right knee of his own, was also back in the lineup and batting leadoff.
The Brewers elected to not put Gomez on the disabled list after an MRI last Friday confirmed a sprain, but showed no significant damage. Manager Ron Roenicke was excited to have Gomez back after more than a week out of action, but he said he wasn't going to overextend the 27-year-old center fielder too much right off the bat.
"If there's a chance to get him out of there, I will try to get him out," Roenicke said. "I don't know if he's going to be able to go nine [innings] today and then nine again. I'm guessing he's going to be a little sore tomorrow, so we'll see how that is, but I won't know until we finish the game."
Entering Friday's series opener against the Reds, Gomez was batting .288 with 18 home runs and 55 RBIs to go with 30 stolen bases in his most productive season as a Major Leaguer to date.
As for Aoki, he said his knee felt better heading into Friday's game, and Roenicke was more confident in his ability to play through the nagging issue.
"I think he's going to have a lot of good days, and maybe he'll have a sore one every once in a while," Roenicke said. "Sometimes, those things linger for a while, and other times, they go away and he doesn't have to deal with it again. Hopefully, it's a lot better today, and we can keep him out there for a while."
Jeremy Warnemuende is an associate reporter for MLB.com. This story was not subject to the approval of Major League Baseball or its clubs.