No offense to back Felix in Wedge's anticipated return
No offense to back Felix in Wedge's anticipated return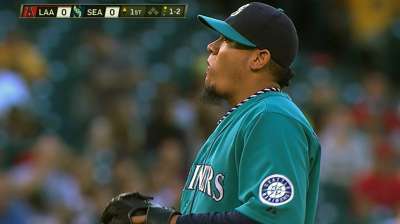 SEATTLE -- Manager Eric Wedge returned to the Mariners after a month's absence on Friday, but his team's offense took the night off in a 2-0 loss to the Angels.
Felix Hernandez suffered his second straight loss despite allowing just two runs on three hits over six innings, as he fell to 12-7 with a 2.63 ERA. Hernandez had 10 strikeouts with just one walk before being relieved with a 2-0 deficit after throwing 104 pitches.
This one came down to one swing by Angels third baseman Chris Nelson, who ripped a two-run home run off Hernandez in the second inning.
"Yep, just one pitch," said Hernandez. "That changeup stayed right there and he was able to hit it and hit it out of the ballpark. So that was two runs right there. It was a little up and right in the middle."
Hernandez has been down this road before. It was the 94th time in 265 career starts that the Mariners provided him one or fewer runs of support, but Hernandez declined to hang his head over getting beat by one bad pitch.
"It's not frustrating, it's part of the game," Hernandez said. "If you make a mistake and they're able to hit it, you've just got to live with that."
It was the 25th time in Hernandez's career he's hit double-digit strikeouts and fourth time this season. He's now just eight strikeouts shy of reaching 200 for a fifth straight year.
Wedge rejoined the team for the first time since having a stroke on July 22 as the Mariners opened a six-game homestand. But Seattle managed just five hits -- all singles -- on a quiet night in front of 21,616 fans at Safeco Field as the Angels snapped a four-game losing streak with just their third win in the last 12 games.
"Felix gave us every opportunity to win the ballgame, we just did not get anything going offensively," said Wedge, whose club had only one runner reach second base all night.
The Mariners fell to 59-68, three games ahead of the fourth-place Angels (56-71) in the American League West.
Nelson's winning blast clanked off the out-of-town scoreboard in left field. It is just the second homer Hernandez has surrendered in his last nine games and 13th in 27 starts on the year.
Wedge said he considered sending Hernandez out for the seventh inning as he'd thrown just 104 pitches, but opted to go to his bullpen as Carter Capps and Oliver Perez came on to finish things off with three scoreless frames.
"We thought about it briefly," Wedge said, "but where we are in the season, if I send him out there I'm going to want him to go out and finish his own inning. Now you're talking about him throwing 120-plus pitches in seven innings. It's a different story at seven innings than it is at nine. And it's a different story when you're down 2-0 versus being up 2-0, too."
Hernandez said he would have liked to have stayed in, but he wasn't pushing the point.
"Yeah, I had that conversation with Eric and he said it's late in the season and I don't want you to go out there and throw 120," Hernandez said. "I understand that. He's the boss."
Wedge said he felt fine during his first game back, though he lamented the lack of offensive production. His team wasn't happy about that either, having wanted to welcome their skipper's return with a victory.
"It was good to see him back," said Hernandez. "He's part of our family. I was a little disappointed. I was trying to win this one for him."
The two runs off Hernandez stood up all night as the Mariners made little headway against Angels right-hander Garrett Richards. After a leadoff single by Brad Miller, Richards didn't allow another hit until Dustin Ackley's two-out single in the fifth.
Richards wound up going 7 1/3 scoreless innings on just 89 pitches before being knocked out by an Ackley line drive off his right forearm. Richards gave up just four hits in improving to 4-5 with a 3.95 ERA.
"Obviously we saw some pretty good command tonight," Miller said. "Not just with the fastball, but I thought his curveball, he could drop that in for a strike or even freeze us. I saw a couple of them and they were big and sharp. His stuff is pretty good and it was clicking for him tonight."
Richards' arm checked out okay after the game, suffering just a bruise. And the 25-year-old was happy to emerge with a win against Seattle's best.
"To be honest with you, Felix looked good tonight," Richards said. "He made the one mistake to Nelson, and other than that, he matched me zero for zero. Obviously his track record speaks for itself. It was a fun game to be a part of, and he did his thing tonight, too."
Hernandez is now 8-13 with a 3.95 ERA in 34 career starts against the Angels, though he'd beaten them twice earlier this season at Safeco Field.
Miller had two of Seattle's five hits as the rookie shortstop improved his average to .256.
Greg Johns is a reporter for MLB.com. Follow him on Twitter @GregJohnsMLB as well as his Mariners Musings blog. This story was not subject to the approval of Major League Baseball or its clubs.