Dyson accepts challenge to race Chiefs' Charles
Dyson accepts challenge to race Chiefs' Charles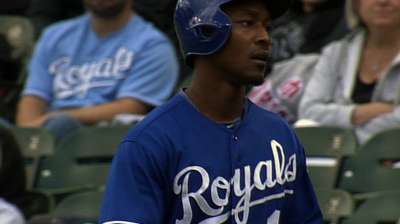 KANSAS CITY -- Center fielder Jarrod Dyson is not the kind of man to step down from a challenge. When he heard that Chiefs general manager John Dorsey wanted to pit him and running back Jamaal Charles against each other in a friendly race, Dyson gladly accepted.
"I didn't say that by any chance, but I'm not afraid to race nobody," Dyson said. "I will tell you that straight up, in front of the cameras."
Dyson said he'd be most dangerous in a 40-yard dash. That could be a tall task against Charles, who clocked in at 4.38 seconds in the 40 at the 2008 NFL Combine.
"I don't care if you sprint or whatever, you aren't leaving Mr. Zoombiya," said Dyson, referencing his Twitter handle. "If you put me in a 40-yard dash, you're going to have to come with it."
In the spirit of competition, Dyson said that if he won, he would offer a longer distance rematch, which might suit Charles better. The competition will have to wait though as Charles battles a foot injury and the Chiefs are in the middle of preseason play.
Dick Kaegel is a reporter for MLB.com. Kathleen Gier is an associate reporter for MLB.com. This story was not subject to the approval of Major League Baseball or its clubs.