Royals fix home-plate signage issue
Royals fix home-plate signage issue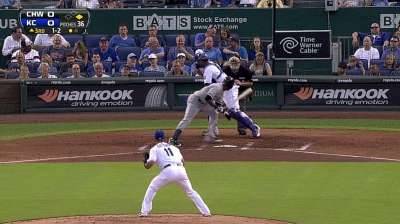 KANSAS CITY -- After three days of waiting, the troublesome signage behind home plate at Kaufman Stadium has been replaced.
Todd Burrow, director of ballpark engineering and maintenance, said the Royals received and installed the new mesh covering Friday afternoon in hopes of ending the odd disappearing ball act that occurred on Tuesday and Wednesday nights.
"We're back to normal, so we shouldn't have any issues," Burrow said.
On Tuesday, a passed ball bounced up behind the sign and a run scored on the dead ball. The sign was repaired the next morning, but that night, a wild pitch hopped up into the same spot. On Thursday, a new sign was made from materials they had on-site, but Burrow said that was just a quick fix and they had been waiting for this shipment since they ordered it after the game on Tuesday. The new sign is much thicker and was tested thoroughly before Friday night's game.
Dick Kaegel is a reporter for MLB.com. Kathleen Gier is an associate reporter for MLB.com. This story was not subject to the approval of Major League Baseball or its clubs.